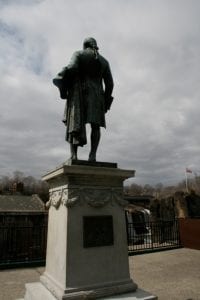 PATERSON, New Jersey — It's early February and the air temperature hovers in the low teens — never mind the windchill that could only be tolerable to a Midwesterner. But despite the cold temperatures, the Great Falls, a geological oasis in these urban environs in New Jersey's Passaic County, just 12 miles west of New York City, flows aggressively into the Passaic River at the foot of the New Jersey Highlands, offering a glimpse of the industrial powerhouse that was once the city of Paterson.
The Great Falls, located in one of the country's most economically distressed cities (known as the Silk City because of the thriving 20th-century silk industry here), was first eyed by Alexander Hamilton, the first U.S. Treasury Secretary, as the "spark that would ignite a new form of industrial productivity," thus "adding wealth, independence, and economic security to a fledgling democratic nation," according to Michael Powell, vice president of planning policy and development for the Paterson-based New Jersey Community Development Corporation, in an article in the forthcoming Spring 2009 issue of Shelterforce.
NJCDC, housed in a rehabbed factory on the former Rogers Locomotive campus — an area that came close to being bulldozed in the 1970s for an early vision of nearby Route 19 — on March 30 completed a successful campaign to protect the Great Falls, part of the Omnibus Public Land Management Act that protects more than 1,000 miles of scenic rivers and streams from commercial development and creates new conservation areas and national parks. The Paterson Great Falls National Historical Park is now established.
This beautiful attraction, while known fairly well (though not nearly well enough) in-state, is completely unknown out of state, despite the role it played in the nation's industrial birth, and well beyond that. According to the Paterson Friends of the Great Falls the 118-acre industrial historic site is "home to the largest and best example of early manufacturing mills in the United States," replete with 18th-, 19th-, and 20th-century waterpower remnants, including a three-tiered water raceway system. The 77-foot Great Falls, the second largest waterfall by volume east of the Mississippi, stands at the center of this site, and "its engineered raceways and mills form a complex that is unique and irreplaceable to our nation. It has been described as America's very first systematic attempt to develop extensive waterpower for manufacturing purposes."
While Lowell, Massachusetts, is often credited as the first planned Industrial city, Paterson, with the falls system designed by Washington, D.C., architect Pierre L'Enfant (a close friend of Alexander Hamilton's), wears that First Industrial City badge around here.
Of course, manufacturing has since left, and while there are still some prominent local businesses, Paterson, the county seat of Passaic, with its 150,000 population, could be described as an urban bedroom community, a Rust Belt city in the heart of New Jersey, and the depressed economy only makes things more challenging.
"This isn't like the other cities in New Jersey," NJCDC's Powell said. "We don't have any universities or prominent medical facilities, and while there are some long-standing business community partners, they are not large-scale employers.
"How do you leapfrog into the next economy?"