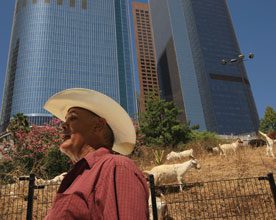 Anything to save a buck these days, but in Los Angeles, a cost-savings measure employed by a local redevelopment agency appears to have all of the necessary sustainable ingredients.
As part of an ongoing effort to combat urban blight, the Community Redevelopment Agency of the City of Los Angeles is cutting its brush- and weed-clearing budget in half — by employing 100 goats at Angels Knoll in downtown Los Angeles. The bearded ruminants plowed through weeds, brush, and bushes during a two-week stay on the steepest portion of the 2.6-acre site.
The site will be developed into a mixed-use office development as the last stage of the California Plaza's development. Until construction can begin, the lower section of the site is being planted with water-saving California native vegetation. The steepest portion of the site, however, was overrun with hard-to-reach weeds and brush — precisely the area where the goats would be up to the task. Using human labor to clear the area would have cost upward of $7,500, but the "no-tech, eco-friendly and cost-effective cleanup solution" ran an estimated $3,000, according to a CRA/LA statement.
Further, the goats, of course, release no emissions, their dung is a fertilizer, and their small hooves help aerate the ground. As for safety, fear not, Los Angeles: security and a herdsman were on hand to oversee the progress.