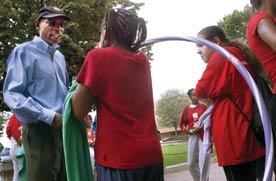 On a hot summer weekday in downtown Newark, it's business as usual. Modest traffic is generated by Saint Michael's Medical Center. Students move between classes on the streets around Rutgers University's Newark campus. Residents and commuters line the streets, adding life to this New Jersey city that has stutter-stepped into something of a 21st-century revival.
But last summer was different. The city attracted national attention when three young adults between 18 and 20 were lined up and shot dead, with a fourth left critically injured. That same downtown hosted billboards that read "HELP WANTED: Stop the Killings in Newark Now!" Despite a drop in overall violent crime, the city had seen its murder rate rise 50 percent since 1998, and the summer 2007 shootings of Natasha Aeriel, Terrance Aeriel, Dashon Harvey, and Iofemi Hightower sent Newark into panic mode. What was particularly troubling was that the four were not associated with any crime or gang, and by all accounts stayed out of trouble.
At the time, New Jersey Governor Jon Corzine called the shootings representative of a "problem that has been in the making for decades," but also told The Star-Ledger that looking beyond Newark was the only way to begin making a dent in addressing that problem.
"One has to stop thinking about this in a single community context. We have a problem where guns are shipped across state lines, we have poor border control with regard to the importation of drugs and they end up fueling violence on the local street. And so on the national level, on the state level, on the local level, we are all going to have to work together," Corzine said.
Earlier this year in Chicago, volunteer groups were being organized in response to breathtakingly frightening murder statistics. The New York Times reported 32 killings of Chicago public school students in the 2006-2007 academic year. None was killed on school grounds, but incidents often occurred en route to or from school. The Times report quoted Arne Duncan, chief executive of the Chicago public schools, who called the city's youth violence "brutal, absolutely horrible."
In response, Chicago police now have access to and monitor school security cameras, as the school authorities and city police will likely become partners in fighting gangs. And Chicago has now become the 11th city to receive $2 million in federal funding for anti-gang initiatives — money from the Department of Justice's (DOJ) Comprehensive Anti-Gang Initiative. The funding follows a summertime spike in gang violence that prompted Illinois Gov. Rod Blagojevich to offer Mayor Daley the assistance of the National Guard.
The DOJ's initiative, which has already granted crime-fighting funding to Detroit, Los Angeles, Tampa, Cleveland, Dallas/Ft. Worth, Milwaukee, a Pennsylvania expanse stretching from Easton to Lancaster, Indianapolis, Oklahoma City, Rochester, N.Y., and Raleigh/Durham, N.C., has garnered largely positive reviews. It addresses family and community factors that can contribute to gang involvement, supports local law-enforcement efforts, and establishes assistance programs with community- and faith-based organizations that offer job training, transitional housing, and prisoner re-entry assistance related to substance abuse and mental health.
The federal effort is a response to a growing problem in cities across the country, where youth violence has become commonplace and anticipated. Just weeks ago, Hartford, Conn. joined the growing list of communities imposing a teen curfew. Anyone under the age of 18 will be required to be indoors by 9 p.m. amid worries of drive-by shootings and 11 incidents of gun violence during a single August weekend.
Hartford Mayor Eddie Perez, himself a former gang member, has described the curfew as a means of helping young people, saying it should not be viewed as a punitive measure.
A similar curfew is in effect in Helena-West Helena, Ark., where police, following a series of gun-related incidents, now patrol a 10-block area with M-16 rifles, shotguns, and night-vision goggles. Mayor James Valley told the local paper that the area was "under siege," and even likened the patrol to martial law.
The responses in Hartford and Helena follow the traditional law-enforcement model for combating youth violence: more policing and incarceration for those who commit the crimes. But more innovative approaches to youth violence prevention are being adopted by not-for-profit groups whose mission is to provide kids with alternatives to the culture of the street through job training, academic challenges, and enrichment in the arts.
Finding new outlets for youth and young adults is way past due, considering findings recently published by the Youth Violence Prevention division of the Centers for Disease Control and Prevention that point to 5,686 young people (ages 10 to 24) murdered in 2005 — an average of 16 each day, with homicide being the second leading cause of death for young people in that age cohort. The figures, released this summer, also indicate that among 10-to-24-year-olds, homicide is the leading cause of death for African Americans.
Recent high-profile efforts aimed at curbing youth violence and reclaiming crime-ridden streets have fallen short of the mark. The 10,000 Men movement in Philadelphia, launched in 2007 amid great fanfare with a proposal to organize African-American men into crime-fighting patrols, quickly fizzled after the patrols failed to mobilize. Organizers faulted logistical challenges, but outside observers noted poor planning and the group's failure to capitalize on volunteers' initial excitement.
Meanwhile, community-based organizations have been working quietly toward rechanneling young people's energies in a way that has reestablished a sense of hope in some of the country's most troubled places.
Working out of a former fur factory in downtown Newark, Robert Clark oversees YouthBuild Newark, a community service, job-training, and pre-apprenticeship program where low-income young people can also work toward a GED or high school diploma. As the founding director of the group — a local partner of YouthBuild USA — Clark is equal parts administrator, construction foreman, and counselor.
"Our program and others like it that try to have an impact on youth violence or youth crime try hard to make sure that people don't go back to prison. That's the struggle around the country: How do you stop these people from going back and forth to jail?" Clark says.
"You have to provide them with an opportunity to believe that anything is possible. Until they do that, you can't stop the crime. People are trying to figure out how to survive with what they know and the tools they have — you just have to give them some different tools."
Clark, 36, is speaking of tools in both the literal and the figurative sense. The students Clark works with are typically poor and have been "failed" by society, he says. But since he returned to his hometown in 2000 to start YouthBuild Newark, recruitment hasn't been a problem, and despite "extreme social challenges, the beauty of youth development is engaging young people to know that change is possible." Clark did add, however, that a core of funders is essential to youth development programs' survival, particularly for newly established organizations like YouthBuild Newark, which benefits from financial support from the Prudential Foundation, as well as a YouthBuild USA line item from the U.S. Department of Labor budget.
For organizations like YouthBuild, which started with a planning grant from the federal government, partnering with nonprofit housing-development organizations to advance its youth-development goals is central to achieving its mission. "We come in and use their projects as our own construction training projects," Clark says. A housing project gets built, and YouthBuild students learn marketable skills.
Clark points to the emerging green-collar economy as a source of encouragement not only for him and his students pursuing careers in construction, but also for YouthBuild's funders and partner organizations. Green-collar jobs — workforce opportunities created by firms, organizations, and developers specializing in sound environmental practices — are on the rise. The American Solar Energy Society points to a $970-billion renewable-energy and energy-efficiency industry responsible for creating 8.5 million jobs. The New York-based Sustainable South Bronx (SSBX), for example, has based programmatic initiatives on improving the social fabric of the community through green-collar job training in a 10-week Bronx Environmental Stewardship Training program.
SSBX founder Majora Carter, in a Summer 2008 Shelterforce interview, pointed to the correlation between joblessness and increases in crime: "When you've got poverty, you've got diminished opportunities for employment. It's easier for people to end up in jail because there are the attractions of the illegal economy."
Policymakers in Trenton seem to agree with Carter's analysis. In 2007, New Jersey did away with its "crime czar" housed in the attorney general's office and turned to a $36-million anti-crime plan rooted in local initiatives after a state police report found gang activity in 43 percent of New Jersey communities and all but one county. While the plan includes standard methods of prevention — modern data collection and analysis-based policing for less sophisticated police departments; more vigorous investigative responses to shootings, with findings reported to Trenton within eight hours; and increasing efforts to curb illegal gun traffic — it also involves community members in developing their own anti-violence strategies and implementing re-entry programs for released prisoners.
Creighton Drury, newly appointed New Jersey assistant attorney general and the statewide director for the crime prevention initiative, says this move has been a long time coming: "We know that we need to talk about prevention and getting to the root causes of issues if we really want to make a difference in crime and neighborhood revitalization, bringing cities back, and helping to improve the school systems."
The program was designed as a comprehensive approach to thinking about crime prevention statewide, but also as a means to clean out some of the bureaucratic clutter, expanding on and combining initiatives spearheaded by the state's Department of Children and Families, Department of Vocation, Department of Labor, Department of Health, and the Juvenile Justice Commission. "The challenge heretofore is that decision makers in those departments had not been coordinating their efforts, so we're also connecting the dots here," Drury says, adding that in the grants-management process "decisions about what we're funding across departments will not continue to be made in vacuums."
Drury, who worked for seven years for the Paterson-based New Jersey Community Development Corporation, a nonprofit community development and social services organization, and was a private-practice attorney for four years, echoes Clark in saying that creating viable alternatives to crime is essential in youth outreach and crime prevention. He believes that states need to work more closely with community grass-roots, nonprofit, faith-based, and school groups that can connect with at-risk children. "The question is how you're going to engage them. If you give kids something they can feel good about, that's a better attraction than the alternatives and the pressures you're seeing on the streets," he says.
The New Jersey plan identifies 20 communities that will be addressed first, but six cities — Camden, Vineland, Asbury Park, Trenton, Newark, and Paterson — have been selected for pilot programs involving local coordinating councils.
Drury points to the New York-based Harlem Children's Zone as a successful model for re-establishing community fabric — helping to fuse family engagement, intervention in childhood development, employment and affordable-housing opportunities, activities for adolescents, and a full education. "The work that's being done by the Harlem Children's Zone and Geoffrey Canada — a community developer — was a real inspiration for us. He realized that if people wanted to have a meaningful impact in their community, they needed to make sure that there was the right opportunity at every point from childhood, to young adulthood, and beyond."
Canada's ultimate objective for the kids in his program is college, which he calls the "ultimate measurement" of success. If more young people are not headed to college, he told the PBS host Charlie Rose during an interview in January, "we will create the next generation of poor New Yorkers."
Canada has also called for an overhaul of public school systems. He says that while he is not anti-union, "teachers unions are creating obstacles to progress," adding that "it should not be impossible to fire" teachers. He sees education as on par with national security and has called for a longer school year ("180 days doesn't cut it anymore.").
The Community Guide, an organization sponsored by the CDC's National Center for Health Marketing and the Community Guide Partners, indicates that over the past 25 years, youth aged 10 to 17, comprising less than 12 percent of the population, have been involved as offenders in roughly one-quarter of reported serious acts of violence. The Community Guide points to violent and aggressive behavior in childhood as a principal contributor to violence later in adolescence. In 2007, the Community Guide's Task Force on Community Preventive Services concluded that universal, school-based programs are effective in "preventing or reducing violent behavior," going on to endorse implementation of these types of programs on "the basis of strong evidence of effectiveness."
Harlem Children's Zone, recognizing that these school-based assets were lacking in Harlem, in 1991 opened its first Beacon Center, serving youth and young adults ages 5 through 21. The centers offer education and recreation resources, as well as an alternative to the street, which Canada views as a pathway to higher education.
"Delinquent peers are major socializing forces in kids going in the wrong direction," says Dr. Robert Hahn, a coordinating scientist in the CDC's Violence Prevention Review. Hahn also points to more specific programs, including highly structured foster care, where youths are monitored at home, school, and during their free time, and rewarded or punished based on their social behavior.
The CDC regards violence as a public-health issue insofar as people can be physically and psychologically hurt — a take similar to that of Dr. Gary Slutkin and his team of "interrupters" at CeaseFire, a Chicago-based organization that uses public-health methods to combat gun violence.
Using his background as an epidemiologist who spent much of his career helping to combat infectious diseases such as AIDS in Africa, Slutkin approaches gun violence as if he were containing a contagious disease, using teams of individuals who often have gang or prison backgrounds, or both, to avert conflict that could result in a shooting.
CeaseFire's mission is, simply, to prevent shots from being fired. "Punishment doesn't drive behavior," Slutkin told Alex Kotlowitz in a May 2008 New York Times Magazine article. "Copying and modeling and the social expectations of your peers is what drives your behavior," he concluded, echoing Hahn's assertion.
CeaseFire's Web site acknowledges that joblessness, family conflict, and gang affiliation can all lead to gun-related crimes. Nevertheless, using interrupters to diffuse the impulse to fire a gun appears to be working. According to the University of Illinois at Chicago's School of Public Health, gun violence in four of the newest CeaseFire zones fell by more than 40 percent in 2006 and 2007.
Around the country, organizations have begun to adopt holistic approaches to violence prevention, providing alternative activities and job training. At the Pittsburgh-based Craftsmen's Guild, art and music teachers, many of whom are employed by the Pittsburgh school system, lend their expertise as part of its outreach programming.
Bill Strickland, president and CEO of Manchester Bidwell Corporation, the parent organization of Manchester Craftsmen's Guild, Bidwell Training Center, and Manchester Bidwell Development Trust, started the Craftmen's Guild in 1968, following the collapse of industrial manufacturer and area employer Allis-Chalmers Corporation. The plant's closure drained the city's north side of much of its working class, leaving vacant properties and a steady reduction in property values. Drugs and crime soon followed.
Inspired by a high school art teacher whom Strickland, 61, still reverently calls "Mr. Ross," the then-17-year-old sought guidance to get into the University of Pittsburgh ("Mr. Ross said he didn't want to see me die on the streets"). He founded the Manchester Craftsmen's Guild while still an undergraduate.
It was designed to help to divert youthful energy away from the effects of the economic and social devastation of inner-city Pittsburgh, using art to inspire local youth taking ceramics classes in a then-small exhibition space. Following the Guild's initial success, Strickland drew up a proposal for turning around the Bidwell Training Center, a vocational education program serving mostly displaced steel workers.
The Bidwell center, founded by the Bidwell Presbyterian Church, did not need to conduct an extensive vetting of Strickland for the job. They basically asked him if he paid his taxes (previous managers, Strickland says, had fallen behind on the school's tax payments) and admired his reputation with Manchester.
Strickland has fine-tuned his operation to promote a long-term strategy of community revitalization that pays not only in crime reduction, but also in the form of economic development. Most classes at Bidwell span nine months to a year. Subjects range from horticulture to pharmaceuticals to culinary arts, and include a few months of externship in hospitals, restaurants, or other areas of training.
The Craftsmen's Guild's arts program that works with schoolchildren starts as early as eighth grade, with most students staying with the program through high school graduation, Strickland says. Bidwell's funding comes, in part, from the Pennsylvania Department of Education, but also from a variety of corporations.
Strickland, who tours the country speaking about his model of community outreach and its effects to academic audiences, MBA candidates, churches, and legislators, says that his "whole life story is six city blocks. I work in this neighborhood and I'm going to die in this neighborhood." Nevertheless, he strongly believes that despite its local roots, the Manchester Bidwell model is exportable.
He envisions opening "boutiques" across the country, and eventually around the world. "If they operate as small, not-for-profits dedicated to poor folks, you can keep the quality of a private school while providing a public purpose," Strickland told Shelterforce. "You can scale that, and do that in a couple hundred cities. We think that's how you get the big return on the investment."
Planning is underway for Manchester Bidwell centers in New Haven, Connecticut; Columbus and Cleveland, Ohio; Philadelphia, Pennsylvania; Charlotte, North Carolina; Austin, Texas; and Minneapolis, Minnesota. Strickland says his organization is trying to establish centers in Nova Scotia, Ireland, Japan, and Israel.
While students may range in backgrounds, all the centers will have certain characteristics in common, Strickland says: no metal detectors, no cameras, and no armed guards. "It's built around trust and confidence, and we have to let people know they're worth something when they walk into the place."
A simple solution to the complex problems that foster violence is elusive, primarily because they are just that: complex. Robert Hahn points to myriad contributing factors, such as interpersonal relations, physical and social environments, and peer pressure.
The CeaseFire model sidesteps questions of causality and goes directly to preventing the effects of violence. The law-enforcement model of crime and punishment has had decidedly mixed results. For Strickland, the key is finding persuasive alternatives to the "cheap fantasies" of the gangster lifestyle. It's a slow, incremental approach to producing young people who will strengthen their communities and support themselves. After 40 years, he's still seeing the fruits of his labors.
It's not the most glamorous route, nor does it make good headlines, but prevention models offering alternatives and skills development for at-risk youth can, over time, have significant impact. While it takes human and financial resources to make these programs work, their potential economic and social benefits are indisputable: less public money for incarceration, refueled local economies as neighborhoods become safer, improved schools, and revitalization of the quality of life in once-violence-plagued neighborhoods.