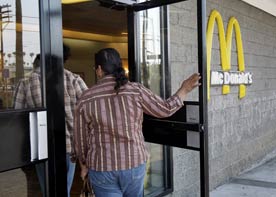 While health-care reform has once again grabbed the headlines and the attention of health advocates in the 2008 presidential election, the next occupant of the White House will need to make many other critical health policy decisions. Important as it is to bring health coverage to the more than 45 million Americans without insurance and to improve the quality and affordability of health care for all Americans, I focus here on other actions that the next president can take to improve the health of low- and moderate-income Americans and to reduce the glaring inequities in health that separate the better off from the poor.
In recent years, the health of the American people has been increasingly shaped not by the decisions of doctors, hospitals, or public health officials, but rather by what corporate executives and managers decide about producing, selling, and distributing their products. Two industries, tobacco and food, now account for a significant proportion of illness and death in the United States and around the world. For at least the past eight years, the federal government has increasingly abdicated its responsibility to protect public health by allowing lobbyists and special interests to dictate regulatory and consumer safety policies. The next president needs to restore a public role in these areas.
For example, the president could endorse stronger legislation to protect children against food advertising that encourages them to eat too much of the wrong foods, thus promoting obesity, diabetes, and premature death. Researchers recently predicted that if the current epidemics of obesity and diabetes continue, our children and grandchildren will have shorter life spans than we do, reversing more than a century of public health progress. By enforcing rules against deceptive advertising more vigorously and by offering support to schools that provide healthier food, the federal government could ensure that the food industry markets its products more responsibly.
In addition, since many advertisers target ad campaigns for high-fat food, tobacco, and alcohol to disadvantaged groups, this promotion of unhealthy products contributes to the disproportionate burden of disease these socioeconomic and racial/ethnic groups already suffer. A new administration should use its legal authority and its bully pulpit to highlight and discourage this targeting of disease-inducing products.
Another priority is to restore the Food and Drug Administration (FDA), the main agency responsible for protecting food and drug supplies. Through undue industry influence, inadequate funding, and inept leadership, the FDA has increasingly failed to keep from the market unsafe drugs and food products. The next administration will have an opportunity to give the FDA the resources and staff it needs to fulfill its mission, take on the regulation of tobacco, and set new ethical and scientific standards that prevent industry-funded researchers from dominating the agency.
Another influence on public health is the automobile industry. Air pollution from cars is estimated to kill tens of thousands of Americans a year, and 40,000 die in motor vehicle accidents, some of which could be prevented by tougher safety standards. In addition, auto industry influence on transportation policy has discouraged the development of mass-transit systems, which could reduce air pollution, human-induced climate change, and obesity by increasing opportunities for physical activity. The next president can reverse the current policies that promote the auto industry at the expense of public health by insisting on tougher emission and safety standards and by supporting mass transit.
One of the strongest predictors of health is education — people with more years of schooling live longer, have fewer illnesses, and choose healthier behaviors. Yet in many U.S. cities, more than half those who enter high school fail to graduate in four years and many never graduate at all. High school dropout rates are highest for low-income and black and Latino young people, and disparities in educational achievement closely track disparities in health. For this reason, the next administration could make a significant contribution to eliminating health disparities by committing to reverse America's dropout epidemic.
Most public-health experts believe that the greatest benefits in health will come from improvements in living conditions such as better education, healthier food, less pollution, and more opportunities for physical activity. Too often, the necessary debate on health-care financing has diverted public attention from the other important ways to promote health. By making the improvement of the living conditions of low-income and working people a national priority, the next president can help the United States realize its potential for better health.