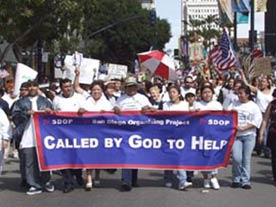 Before you panic at the notion of government support for religion, let me explain. First, faith-based community organizing means a specific type of progressive organizing through religious institutions, for poor and working people's issues. Second, it has no connection with President Bush's Office of Faith-Based and Community Initiatives, which was cynically used to pander to the Religious Right.
Faith-based (or "congregation-based") community organizing builds federations of congregations, usually Christian but including synagogues, mosques, other religiously tied organizations, and nonreligious groups such as unions, schools, and CDCs. Religion has always been intertwined with American association-building, as Alexis de Tocqueville noted in the 19th century. Government has frequently turned to the voluntary religious sector, including groups like Catholic Charities and the YMCA, to provide social services. The question is how and why it's done: to entice religious conversion, impose sectarian values, to win conservative votes? Or to meet human needs — as the Book of Matthew says, to serve "the least of these"? Faith-based community organizing is part of a long tradition of progressive religion-based social movements, such as abolitionism and the Social Gospel. Increasingly, these federations of congregations form broad coalitions with allies such as ACORN, labor unions, and other progressive groups.
The president should support faith-based community organizing because it builds social capital — networks and norms of trust, the glue that holds society together. This social capital is mobilized to win community-serving programs and develop strong grass-roots leaders. What progressives often don't realize is that these disciplined organizing practices, seldom used in secular social movement organizations, are transferable to them and could build their capacity.
Another reason the president should support faith-based community organizing is because it connects Americans across boundaries of race, class, and gender in a way that few organizations can. These groups pursue inclusive policies — such as public safety, an expanded earned income tax credit, jobs programs, and guaranteed health care for the uninsured — that benefit the poor as well as the working and middle class. They help counter inequality by identifying shared interests and building support for redistributive programs.
Faith-based community organizing has proven successful in mobilizing thousands of people, training nontraditional grass-roots leaders, and winning billions of dollars in redistributive policies. Each group is a laboratory for cooperation and mutual respect. They help weave American diversity into a unified fabric that stands in proud opposition to fundamentalist intolerance and jihadism.
However, government support can be a Trojan horse: it depends on how government supports faith-based organizing and what government expects for that support. Many community activists oppose accepting government funds lest their ability to challenge government officials be fatally compromised. But government resources can support faith-based organizing if used carefully.
But exactly how should the president support faith-based community organizations? If McCain wins the election, he can seek their counsel and support on policies and programs in need of reform, such as health care. If Obama wins, he is well positioned by his organizing experience to use the bully pulpit to support their activities. He can encourage private foundation giving, but more directly, his proposed Council for Faith-Based and Neighborhood Partnerships could provide resources for organizing. Obama is committed to supporting programs that have proven successful — such as substance- abuse counseling or prison ministries — but without the proselytizing or discrimination in hiring that cross the church-state divide. His plan includes a $500 million summer educational program serving one million poor and minority students.
The new administration could be a boon for faith-based community organizing in many ways, such as:
Funding summits that bring together the networks and their allies;
Supporting leadership institutes that teach skill-building for democracy (translation: recruiting, training, and funding new organizers) — one of the most daunting challenges for organizing;
Forgiving federal student loan debts for new organizers;
Using the bully pulpit to promote organizing as the practice of democracy, and faith-based organizing as part of the practice of religion. The world's great religions share a commitment to human dignity, communities of shared obligation, and loving one's neighbor as one's self;
Most important, giving faith-based community organizations and their progressive, labor, and other allies a seat at the table. The administration should listen to their hard-won knowledge and proposals, and deliver the programs and policies that bring us closer to social, political, and economic democracy.