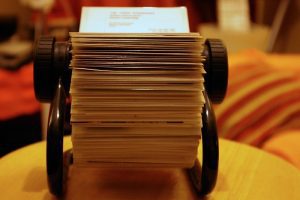 Under the new administration, faith-based groups are going to be asked to play an increasing role in solving social ills and building sustainable communities. The organizations listed below can help local faith-based groups choose their roles carefully and meet the challenges they take on.

Faith-based networks are national or regional groups of affiliated organizations (usually, but not always, congregations) that focus on community organizing and are usually comprised of ten to sixty member organizations. Networks provide training and often professional organizers to fledgling groups.

The intermediaries listed provide training and technical assistance specifically to faith-based groups on a wide range of community development activities such as social services, housing, economic development and advocacy.
Editor's note, 2022: Some of the information below has been updated; for some of the organizations, the information may no longer be correct.
---
NETWORKS
Asset-Based Community Development Religious Network
2215 Shooting Star Lane
Ft. Collins, CO 80521-1362
970-416-0636; www.northwestern.edu/IPR/abcd.html
ABCDRN is a national network that uses asset-based community development, which focuses on the strengths and assets of members and residents, to support and build community within congregations and neighborhoods. Editor's note, 2022: This organization was dissolved in 2013.
Direct Action & Research Training Center
314 NE 26th Terrace
P.O. Box 370791
Miami, FL 33137-0791
305-576-8020; www.fiu.edu/~dart
DART's mission is to assist in the development of strong, congregation-based, grassroots community organizations committed to democratic principles and Judeo-Christian values like justice and fairness. Its vision is rooted in an understanding of religious congregations' prophetic role in holding society's political and economic systems accountable for acting fairly.
Gamaliel Foundation
5416 S. Cornell Ave.
Chicago, IL 60615
312-357-2639
The Gamaliel Foundation is a national network of professional community organizers and key institutional leaders working to rebuild urban areas. They work with faith-based community organizations that are trying to live out their spiritual convictions in the public arena.
Organizing and Leadership Training Center
307 Bowdoin Street
Dorchester, MA 02122
617-822-1499
OLTC is a network of seven broad-based organizations located in cities or metro areas of Massachusetts and Connecticut. OLTC is also affiliated with the Industrial Areas Foundation (IAF). Editor's note: As of 2022, this organization appears to be defunct.
Pacific Institute for Community Organization
171 Santa Rosa Avenue
Oakland, CA 94610
510-655-2801; www.piconetwork.org PICO serves a national network of congregation-based community organizations. PICO assists in the building of community organizations with the power to improve the quality of life of families and neighborhoods. PICO carries out its mission through leadership training, the recruitment and development of professional community organizers and ongoing consultation and technical assistance.
INTERMEDIARIES AND TA PROVIDERS
Congress of National Black Churches
1225 Eye Street, NW, Suite 750
Washington, DC 20005
202-371-1091; www.cnbc.org
CNBC is a coalition of the eight historically African-American denominations and represents 65,000 churches with 20 million members. CNBC empowers members through collective action, technical assistance and training, and works with federal agencies in community and economic development, hate crime prevention, social justice and child and family development.
Faith Center for Community Development Inc.
120 Wall St.
New York, NY 10005
212-785-2782
FCCD provides technical assistance and other resources nationally to religious institutions that are engaged in human, housing, and economic development programs.
National Congress for Community Economic Development
1030 15th Street, NW, Suite 325
Washington, DC 20005
202-289-9020; www.ncced.org
NCCED's Faith-Based Community Economic Development Program provides research and training, helps expand collaboration between religious institutions and other agencies, encourages theological reflection on community revitalization, and integrates faith-based development into NCCED's other programs.
National Federation of Community Development Credit Unions
120 Wall Street, 10th Floor
New York, New York 10005
212-809-1850; www.natfed.org
NFCDCU's Faith-Based Credit Union Program offers training and marketing support for African-American, Latino and other credit unions based in religious organizations. It works closely with national denominational and ecumenical groups to develop programs for their constituencies.
ORGANIZE! Training Center
San Francisco
650-557-9720
OTC assists groups interested in deeper integration of faith and action by providing consulting, internships, full-time organizer training, publications and other services.
Regional Council of Neighborhood Organizations
5600 City Ave.
Philadelphia, PA 19131
215-878-4253
RCNO is a national training center currently working in 16 different cities. During the past eight years RCNO has provided training for more than 3,000 clergy, lay, and community leaders, and has offices in Pennsylvania, Illinois, and California. Note: This organization may no longer be in operation.