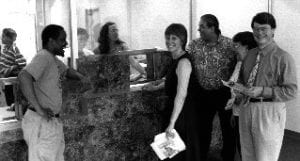 Mention the word "housing" in the Minnesota state legislature, and you're likely to be referred to the office of Representative Karen Clark. Clark, a lifelong activist for progressive causes and a 16-year veteran of the Minnesota House of Representatives, is widely credited for bringing affordable housing into the state's policy arena – and keeping it there.
Clark has chaired the Minnesota House Committee on Housing, which she helped create, for the past five years. During her tenure as chair, the legislature has provided over $30 million in new funds for housing programs, created and expanded a variety of homelessness prevention programs, and taken an aggressive look at affordable housing issues statewide. During the 1997 legislative session, Clark also chaired the housing budget division of the Economic Development and International Trade Finance Committee.
Born in Oklahoma, Clark was raised in Southwestern Minnesota by sharecropper parents, which gave her an early appreciation of landlord/tenant issues. She received a degree in nursing from the College of St. Teresa in Winona, Minnesota, and soon gravitated toward public health issues. Her first years as a nurse were spent in migrant labor communities and establishing a community health center on St. Paul's impoverished West Side.
Clark's ties to civil rights, anti-war, community health, affordable housing, gay and lesbian, and women's groups led the progressive Farmer-Labor Association to recruit her as their candidate for state senate in 1980. The decision to run, Clark said, was difficult, in part for personal reasons. "At that time there were no openly lesbian or gay people in any state legislature in the country," said Clark, who is a lesbian.
After an early Senate endorsement fight, the Democratic Farmer and Labor party (DFL, Minnesota's Democratic party) gave Clark the green light to run for the House. She campaigned on a platform of safe affordable housing, tenants rights, and community revitalization. Her district, one of the poorest urban neighborhoods in the state, had recently felt shock waves from the demolition of hundreds of affordable housing units at the site of the Minneapolis Metrodome. As a result, Clark became a promoter of housing replacement requirements for units lost due to government action.
She continues that work today. During the course of her legislative career, Clark has promoted, won, and lost a state housing replacement law. Between 1989 and 1995, the state required Minneapolis, St. Paul, and Duluth to provide affordable rental housing to replace units demolished or converted to other uses by city actions. The requirement was dropped in 1995 with the passage of the Metropolitan Livable Communities Act (LCA). [See sidebar]
Clark believes that the LCA was flawed from its beginnings. "I voted against the entire bill because of the repeal of replacement housing," she said. "Although I think the intention behind the Act was noble…such deep compromises were made that it's a law with too-modest goals. The affordability levels are simply not realistic for my constituents."
Fighting Lead Poisoning
Clark's tenacity has helped raise the profile of many other housing issues at the state level. Her favorite project, and until 1997 a perennial veto-getter, is fighting childhood lead poisoning. "This is an issue that touches on so many important policy areas – affordable housing, inner-city revitalization, tenants' rights, child health, education, environmental racism, job creation…and it's completely solvable. We know what we need to do."
During the 1997 session, Clark authored a bill to create the state Lead Advisory Task Force. The task force will include representatives of Minnesota's House and Senate; and departments of Commerce, Housing Finance, and Health; landlords; tenants; health professionals; insurers; educators; and others. It is charged with developing a program to certify residential rental property as lead-safe and to ensure that it retains that certification. The task force will also examine legal and insurance issues around lead in rental properties. Clark also currently serves on the Federal Forum on State and Tribal Toxics, a task force of the EPA, and has devoted a great deal of time to the development of national lead-safe standards for housing.
The Lead Task Force is the latest of a long string of Clark-sponsored lead bills, and the first to survive the veto pen. Where she has been less successful on other issues, she promises to be equally persistent.
In April 1997, Clark lost a prolonged debate over a provision in the state's welfare reform bill that counts $100 of a recipient family's housing subsidy against its cash grant. Proponents of the provision argued that recipient families with Section 8 had an unfair advantage over those in market-rate housing, and that savings from the provision could be used as wage subsidies. Clark opposed the provision on the grounds that it raided one anti-poverty resource to fund another. The provisions will mean a monthly $70 net loss for recipients who live in subsidized housing, as well as dramatically increased costs for housing authorities as they increase the subsidy for each household. Advocates estimate that 1,000 fewer certificates will be available statewide as a result.
"It's simply ignorance," Clark said. "Housing continues to be on the back burner as a major social justice issue, and we will definitely see the impact of these housing and welfare decisions in years to come."
However, Clark added that she's encouraged by the growing number of legislators who understand that housing is an important part of the state's policy responsibilities. "What it took [for childhood lead poisoning to become an important issue] was a suburban Republican legislator who understands the issue and is willing to argue that it's not just an inner-city problem," said Clark.
An Irrelevant Approach?
Some suggest that Clark's social justice approach is actually irrelevant to recent increases in legislative attention to housing. Outside forces, along with Republican Governor Arne Carlson's recent introduction of two multi-million-dollar housing packages during his tenure, have shaped the state's response to the housing crisis. A booming state economy has left communities crying for housing affordable to low-wage workers. Rental vacancy rates in the Twin Cities are critically low – under 2 percent as a whole and under 1 percent in some areas. Low vacancy rates and federal reforms are encouraging for-profit owners of subsidized buildings to prepay their mortgages and charge market-rate rents.
The state's pronounced urban-rural split has also worked against Clark's ability to generate long-term legislative consensus on housing issues. Six-term DFL representative Gene Pelowski believes that Clark, and housing advocates who are quick to turn to her, have put a very urban face on housing need.
Yet Clark hopes to continue expanding on her work to provide homeownership opportunities for her state's low-income households, and increased resources for homelessness prevention and emergency response programs. Housing advocates can expect to see Clark in years to come, as she has no plans to quit the legislature anytime soon.
Livable Communities Act
The widely-heralded Metropolitan Livable Communities Act (LCA) attempts to take a regional approach to creating and distributing affordable housing throughout the 13-county Twin Cities metropolitan area. Its primary goal is to increase housing opportunity for low-income families in the area's affluent suburbs. Related goals are to limit  urban sprawl to and encourage urban development that links housing, jobs, and transit.
The act relies heavily on incentive accounts to encourage suburban communities to develop affordable single- and multi-family housing. Communities that wish to access LCA funds for pollution clean-up and housing development must negotiate affordable housing goals with the Metropolitan Council, the regional planning body for the Twin Cities area. Each community must then file an action plan, stating how it intends to reach its goals.
The Livable Communities Act defines housing affordability as follows: Rental housing must be affordable (cost no more than 30 percent of adjusted gross monthly income) for families earning 50 percent or less of the metropolitan median family income. Homeownership units must be affordable for families at or below 80 percent of the metropolitan median family income. The council then developed benchmarks, stating the percent of affordable rental and homeownership units for which each community should strive.
In the fall of 1996, an independent task force of local elected officials, advocates, and housing experts, chaired by former St. Paul Mayor George Latimer, released its analysis of the first year of LCA activity. The report, Promises Deferred, raised questions about the effectiveness of the incentive accounts and pointed out deficiencies in the action plan process. According to the report, the affordability benchmarks for individual communities were inadequate, failing to hold developing outer-ring suburbs to a high enough standard.
At the same time, the report finds, "Municipalities that meet or surpass their negotiated goals are using the Livable Communities Act and the argument that they already have an ample supply of affordable housing as a justification to tear down existing affordable housing without a plan to replace that housing either in their community or someplace else in the region." Few local action plans submitted in 1996 (the first round of plans) detailed the number of units to be developed or the time frames for doing so. Compounding the problem is the fact that the Metropolitan Council has no authority to enforce the action plans.  Finally, existing resources leave a $440 million gap in what's needed to develop the new housing.
According to State Representative Karen Clark, the weakness of the LCA process was made even more apparent this spring, when the Minnesota legislature made a direct pollution clean-up appropriation of $500,000 to a suburban community that has refused to opt into the LCA process. The bill's sponsor made his case by saying the community "would have" met the LCA benchmarks, had it decided to participate. "Clearly, the incentives approach is flawed," said Clark. "I'm very hopeful that we'll be able to revisit and improve the Livable Communities Act, now that we've had two years to track its progress."