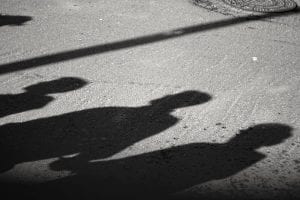 Before the harsh reality of COVID-19 hit most Americans, immigrant communities were already having their lives turned upside down. For undocumented immigrants, fear ruled the day due to the continuation of ICE raids and the possibility of deportation, and the Trump administration's public charge rule, which can penalize people who seek a green card if they use public assistance programs like SNAP.
At the start of the pandemic, immigrant workers across the country—regardless of immigration status—were part of the industries hardest hit by COVID-19 layoffs, according to a March study by the Migration Policy Institute. Six million immigrants who worked in the restaurant, hotel, or home health care industries lost their jobs. Another 6 million work in jobs that are deemed essential, like grocery store workers and medical staffers.
"Collectively 12 million immigrant workers are at the leading edge of the response to and impacts from the pandemic," reads the study's executive summary.
In Asian American communities in New York, California, Texas, and Seattle, business owners were forced to deal with hateful outbursts from customers, vandalism, and drastic declines in business before the virus had a dramatic nationwide impact. A Pew Research Poll found four out of 10 Black and Asian adults surveyed said people have been more likely to express racist views toward them since the pandemic began.
[Related: How CDCs are Fighting Back Against Anti-Asian Harassment]
"Our members started reaching out in late January to tell us about the xenophobia they were experiencing. They were already seeing a dramatic drop in revenue and experiencing vandalism. And this was the Lunar New Year, when business was typically booming," says Nahida Uddin, membership and communications manager for the National Coalition for Asian Pacific American Community Development (CAPACD).
COVID-19 quickly exacerbated instability in housing, health care, and income for immigrant communities. In response, nonprofit organizations that serve these communities have had to redirect on-the-ground resources—like registering people for health insurance, providing rental assistance, or offering language training—to online services. At the same time, they are dealing with widespread fear and distrust spurred by the combined burdens levied by the Trump administration's immigration policy, a cratering economy, and scattershot local assistance and federal stimulus funds that are hard to access or unavailable.
The Impact of the Public Charge Rule
Building relationships with immigrant communities requires extensive groundwork, trust building, and understanding usually developed through face-to-face contact. When all of that became nearly impossible in the early days of the pandemic, small organizations that work with immigrant populations were forced to figure out how to operate remotely. "Working from home is easy for larger companies, but for small community-based organizations there just wasn't the infrastructure," says Juan Pinzon, director of health services at the Community Service Society, a New York City-based group that works to increase economic, health care, and housing opportunities for disadvantaged workers. "I know some folks went to the office anyway because it was the only way to help people who were in need. A lot of their clients really do not feel comfortable talking on the phone, don't have access to computers, and what they really need is access to a food pantry. You can't do that remotely." 
The fear created by the administration's public charge rule was the biggest initial hurdle for organizations that provide on-the-ground assistance, says Pinzon. The rule stipulates that a green card applicant's use of federally funded programs like SNAP, Medicaid, and publicly subsidized housing like Section 8 can be considered a negative factor during their application process, which has forced some immigrant families to choose between financial assistance and the prospect of one day securing a green card.
"It's unfortunate we had that fear going into the worst pandemic in 100 years," says Pinzon. "I have to wonder how many people lost their lives due to their fear of getting tested due to their immigration status."
El Centro de la Raza, a Seattle-based nonprofit, has received a flood calls from undocumented families seeking help during help pandemic. "It can take time to gain trust. If they have doubts then we assure them we don't share data. And we walk them through benefits so that if taking one kind of assistance might impact their chances of getting a green card, they can make the decision about whether it's worth it," says Karen Calvo, a community connector and systems director for El Centro de la Raza.
Teresa Perez, who organizes five churches in the North Country of San Diego as part of the San Diego Organizing Project, says there is more trepidation among her clients about taking assistance from the state, which requires registration, than from grassroots organizations. But while distrust of ICE and the public charge rule remains a concern, desperation overcomes their reluctance to seek help, says Perez. "Most of the people don't ask about how the help might impact their green card application. They just take the help. They are desperate."
The Difficulty Accessing Aid
Just how great is the need faced by the immigrant community? "Virtually the entire population we serve is jobless and facing food insecurity," stated Annetta Seecharran in a study by the Center for an Urban Future, which found that half of New York's working-class immigrants lost their jobs because of the pandemic. Seecharran is executive director of Queens-based Chhaya CDC, which provides services for South Asian and Indo-Caribbean communities.
Many of the immigrants served by the aforementioned organizations live in crowded apartments, have limited technological literacy, and speak little to no English, and therefore cannot access telemedicine or crisis hotlines. They also are at greater risk for eviction in places like New York, where an eviction moratorium was put in place and extended, but with the caveat that applicants provide proof of unemployment insurance, which is generally impossible for gig workers to provide.
Calvo of El Centro de la Raza in Seattle says the number of calls her organization receives from non-English speaking immigrants who are being harassed by their landlords grows every day.
"So many of these families are afraid they are going to be homeless. We explain to them that there is a moratorium on evictions and generally have been successful in keeping them in their homes."
Because most undocumented immigrants have not qualified for federal stimulus payments and are not protected by safety net programs during a time when even financially stable households have found themselves struggling, community-based organizations have had to be on the frontline of response. A survey of primarily Latinx residents in New York City, Long Island, and Westchester County revealed that 62 percent of respondents had received some sort of cash or income replacement from community-based organizations. In addition, 65 percent said these types of organizations were among their main sources for information.
El Centro in Seattle has a program that mails up to $500 in rental assistance to landlords every month. The group often works with landlords to forgive debt and create payment plans. However, Calvo notes that one family did vacate their property after ongoing harassment. El Centro helped the family secure legal support and tried to find them temporary shelter and assistance.
El Centro offers a variety of programs including food assistance and rent assistance, and both programs are operating at capacity with a long wait list. There are currently 300 people enrolled in the food assistance program. "We didn't have enough funding put on hold for new participants for the number of people who needed our rent and grocery assistance programs," says Calvo. "It just wasn't something we foresaw or had in place before the pandemic."
The National Association for Latino Community Asset Builders (NALCAB), a Texas-based organization with member organizations in 40 states and D.C., secured $6.4 million in grants and low-interest loans from the likes of JPMorgan Chase, Citi, and The Wells Fargo Foundation, to support the work of nonprofit organizations it had approved grants for in the last three years. The states with the most recipients of the grant money are Texas, California, Florida, Oregon, Pennsylvania, Arizona, and Massachusetts.
"Latino and immigrant communities were hit hard in the last U.S. recession and are being devastated in this crisis," said NALCAB Executive Director Noel Poyo. According to a national Pew Research Poll conducted in March, 49 percent of Latinx people surveyed reported that they or someone else in their family had taken a pay cut, lost a job, or both, due to the pandemic. 
 "This emergency funding marks the largest, most targeted investment to date in Latino-serving nonprofits that are responding to the current economic crisis," says Poyo.
In April, California announced a $125 million fund to provide $500 payments to undocumented immigrants ineligible for the federal stimulus. Many of the state's 150,000 undocumented immigrants pay local and state taxes but are not eligible for unemployment benefits. The state initially encountered difficulties raising $50 million in private donations to match its $75 million investment. The L.A. Times reported that efforts to get the cash into the hands of needy families have been halted by both the overwhelming need and the lack of staff and resources at the 12 nonprofits tasked with overseeing the program.
"As a result, many immigrants have been stymied by jammed phone lines when they tried to call the groups, which the state contracted with to hand out debit cards. When they did get through, those seeking help were required to provide proof of their qualification for the funds, to be verified by the nonprofits, which can further delay payments," the Times reports.
So far, less than half of the 150,000 eligible recipients have received debit cards containing the funds, and only around $33 million of the $75 million allocated by the state has been distributed. As a result, California Gov. Gavin Newsom has extended the deadline to apply for the funds.
In New York City, Mayor Bill de Blasio announced the start of an immigrant-relief fund in April, but by early May the program had not launched, partly due to concerns about privacy and the lack of capacity at already overwhelmed community-based organizations. Meanwhile, Gov. Andrew Cuomo refused to commit to create a fund to assist undocumented immigrants.
Adapting to Change
Nonprofits have quickly adapted to provide assistance, despite major impediments, including technological concerns, lack of funding, and health concerns created by COVID.
The Washington Immigrant Solidarity Network, for instance, repurposed a hotline designed to aid those threatened with deportation to offer information about the pandemic, including news about testing, stay-at-home orders, and how to secure assistance. According to The Seattle Times, calls to the hotline surged from 60 in a week to 4,500.
Uddin of CAPACD says the organization assisted support groups that offer counseling services in their move online by providing best practices and technical assistance. Another major effort involved translating advice for small businesses into multiple languages.  "Our clients either have significantly limited English or it isn't their first language," says Uddin. "Local resources were already confusing and inconsistent. With the lockdown, we faced the additional challenge that some of our communities are not always tech savvy. A lot of organizations pivoted online with the stay-at-home orders, but with that pivot came a huge demand for tech support."
CAPACD also helped by fundraising for food pantries, giving direct food relief to seniors, and ensuring that culturally appropriate food items reach immigrant communities.
Help for Businesses
Yanki Tshering, executive director of the Business Center for New Americans (BCNA), based in Manhattan, which provides microloans for refugees and immigrants for their small businesses or to secure housing, says many of her clients and members of their families have contracted COVID-19. For struggling family businesses, that means medical costs, loss of labor, and instability. BCNA set aside $50,000 for an emergency grant fund for immigrant business owners. Within a week of the pandemic's onset, BCNA contacted its existing clients electronically and offered assistance. Many businesses struggled for lack of customers in the shutdown while others, like community grocers and wholesalers, saw spikes in sales and were in dire need of capital to boost their inventory.
While there was some good news, there was also a lot of bad. A host of emergency loan or grant programs launched by federal, state, and city governments popped up but funds were often exhausted before applications were even finished. Some programs were designed so poorly that it was unclear to Tshering who exactly would benefit from them.
"Our staff spent a lot of time applying for these relief programs that would pop up. Each week there seemed to be some program that was announced. And in the end, we'd only hear back from a handful. There would be a big PR splash and we'd get all excited and anxious about being on top of it, but in the end, we had no idea who was actually getting this help," said Tshering. The first round of federal Paycheck Protection Program loans caught her organization off guard, but by the second round they had figured out how to quickly process the surge of applications.
Cataloging, applying for, and deciding whether it was right to even direct their clients to certain programs was taxing for Tshering's 13-member staff. The priority in most cases was to ensure that clients did not incur more debt but were in the running for grants and rent relief.
"It felt a lot like The Hunger Games, with everyone fighting for scraps," says Tshering. "At some point our staff has to take a break. We will eventually do a post-mortem to figure out which programs were worth it."
Now BCNA is looking at how it might reach new clients who desperately need assistance to make it past the shutdown. "The next challenge is taking on new clients. We will look at how we can underwrite these businesses based on how they functioned before the virus so we can hopefully get them back up to speed. We know some of these businesses will close eventually, but, where possible, we'll see what form of credit can be extended to them. We are fully aware losses are going to be higher and we have to make sure we have reserves in place to account for that. We have to strike a balance between committing to clients where we are taking an affordable risk and ones where there is much higher risk."
Who Will Help the Helpers?
While organizations are working around the clock to provide support for their respective communities, financial woes at the state and local levels put the very existence of those organizations at risk.
New York City's de Blasio has pushed for a review of contract costs associated with nonprofits, and his proposed budget calls for over $2 billion in spending cuts. With de Blasio predicting a $6 billion budget deficit, many nonprofits are concerned that their pending contracts with the city—more than $457 million—might not be honored. "Delaying or stopping execution and registration of these contracts could cause significant financial harm to the city's nonprofits—harm that some organizations will not recover from," New York City Comptroller Scott Stringer wrote to de Blasio in May.
New York state as a whole faces a $13.4 billion shortfall this year, and the Cuomo administration has delayed payments to nonprofits and put a hold on new contracts while pushing for financial assistance from the federal government. Pinzon of the Community Service Society says there's a lot of fear in the nonprofit community that funding will disappear and that cities and states might decide that existing but altered services might not meet their deliverable requirements and therefore expected funding will be cut.
"There's a lot of uncertainty: If they're working remotely, will they still get paid?" Pinzon says. "And some organizations just aren't able to get out and do outreach during the pandemic. So will they get paid? Or will they just disappear?