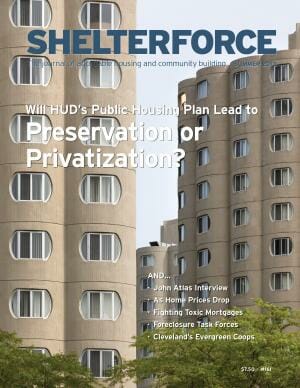 Back in 2010, when the public housing reform that would eventually become the Rental Assistance Demonstration (RAD) project was first proposed, we spoke with a lot of people about their concerns that the move to get private financing in to deal with public housing's horrendous capital needs backlog would result in the privatization of a precious public resource. (We'll have a few articles coming up about how RAD is doing. Stay tuned.)
But even in the face of those concerns, it was hard to find anyone who really believed that the federal government, even under President Obama and HUD Secretary Shaun Donovan, would even contemplate coming up with the funds to repair, modernize, and rehab public housing directly. "The best solution would be for Congress to simply allocate the funding for a one-time infusion to make long-neglected repairs," wrote Peter Dreier, "But because there are so few people who live in public housing, and because they are not well organized, Congress has little incentive to do so." And so the focus was on building safeguards into the private investment plan.
Sufficient federal support to deal with public housing's capital backlog was as inconceivable as a resurgence in interest in rent control. (Oops.) Well, times are changing. Whether it's the need to recapture some momentum in the 2018 election season, or the growing effect of the housing crisis on a wider range of people, the Democratic Party, as part of its Better Deal proposals, has proposed … investing $70 billion over 5 years in public housing operations and capital needs. That would more than double the current public housing budget. It could come close to actually addressing the capital needs backlog, which recent news out of New York City has highlighted as a continuing crisis for many housing authorities.
The proposal was announced at a press conference in Boston, with Democratic representatives, a senator, and the Boston mayor in attendance.
Obviously a proposal is a long, long way from making it happen, and the fairly small amount of news coverage the announcement has received seems to imply that few people are taking it seriously and others see it as an election-year gambit.
But talk of doubling the current housing budget as a possibility is a necessary first step. Here's to bigger, bolder imagination continuing.