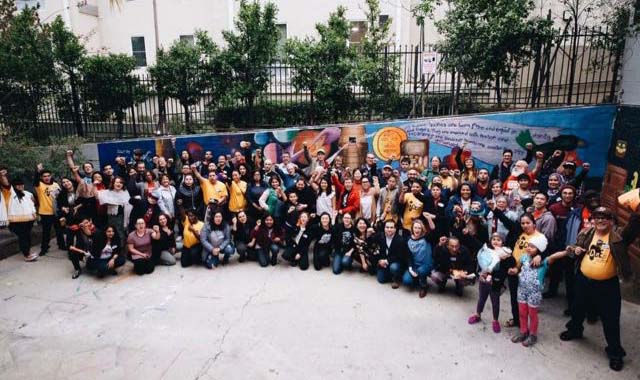 California is home to over 16 million renters— about 45 percent of the population—and the majority are low-income people of color. A disproportionate number of women with children and people of color are targeted for eviction and displacement every day. That number increased with the foreclosure crisis and continues today as speculation on land and housing intensifies.
Early this month, tenant leaders and organizers from throughout California gathered in Los Angeles to align our visions of housing justice, share strategies to build power, and move together across networks, organizations, and issues for a powerful response to the housing crisis.
Hosted by Tenants Together, Alliance of Californians for Community Empowerment, Homes for All California, Right to the City, and Homes for All national, our convening drew 125 tenant leaders and organizers from over 35 organizations across the state that are fighting for renters' rights. The room was packed with folks eager and determined to put an end to evictions and rent increases, and demand (from the local, state, and federal government) investment in deeply affordable housing.
We've had some wins. Last year we passed three new rent control and just-cause for eviction laws for the first time in decades, and we plan to build on them.
Tenant organizers from rent control campaigns in 2015 and 2016 in Santa Rosa, Richmond, the City of Alameda, and San Mateo shared with us what they'd learned, which is especially important as tenants in Los Angeles County, Sacramento, and the San Diego area beginning to organize their own campaigns.
Affordable Housing
More than 11.4 million extremely low-income (ELI) renter households in the U.S. (with incomes no greater than 30 percent of their area median income or the poverty guideline) face a shortage of 7.4 million affordable and available rental homes. The Gap: A Shortage of Affordable Homes reports that nationally, only 35 affordable homes are available for every 100 ELI renter households. Shortages exists in every state and major metropolitan area.
Enrique of the North Bay Organizing Project in Santa Rosa shared his own experiences of survival and housing. "I'm a student and sometimes I have to choose between eating and paying my rent, that's a decision that's very difficult to make. I know a lot of other students who are dealing with this too. I've [been] homeless … and it wasn't good. The whole cycle of poverty is difficult to get out of. I wouldn't wish that on anyone. People need help, rent stabilization, protections, and power."
Best Strategies
Large groups engaged in animated conversation about best strategies to push for broad economic, racial, and gender justice, and advancing a vision of an economy that works for families, communities, and the environment.
We talked about alternative visions of community development that centralizes the interests and needs of working-class communities of color. Gentrification is not the inevitable result of economic development, but the result of fundamentally unjust economic development policies and the widespread public disinvestment from historically marginalized communities, according to the the 2014 report, Development Without Displacement, written by Causa Justa and the Alameda County Public Health Department. Community organizing, collective power-building, and communal self-determination must form the foundation of any legislative, electoral, or policy strategy to prevent, combat, or reverse gentrification.
"To me, housing justice means that everyone has a place to live that is safe, affordable, quality, and unconditional, meaning that people aren't living in fear or feel threatened that their homes will be taken away from them, and that people are thriving in their communities," said Roberta Ryan from R.I.S.E. Coalition in Fremont, a housing justice organization.
A Broader Movement
Organizing tenants is one part of a broader movement, and we looked for alignment, divergence, and things that were missing in existing platforms for tenants' rights and housing justice. We challenged ourselves to think of ways to build a movement that is inclusive and intersectional.
Woodrow Curry of UpLift Inglewood spoke of UpLift's organizing work in south Los Angeles. "The city of Inglewood is a city of about 115,000 residents, mainly people of color. We're organizing and building power to shift the focus of our cities toward residents. We're organizing so that our families can stay."
Over the course of the day, we reviewed the history of tenant organizing in response to housing crises starting in the 1930s, including the roles that redlining and redevelopment have had in shaping the nature of housing injustice today. Many took note that tenant organizing in the '60s and '70s took place alongside broader movements.
We examined and debated where we want to go together. As we talked about our policy priorities we challenged ourselves to think about aligning the ways we go about the work. How do we build power locally, trans-locally, and statewide? How do we link our work to build power with other justice-oriented movements?
Our frontline communities are threatened on many levels in this political moment, including deportations, gender violence, and police violence. Landlords regularly target vulnerable communities for abuse, and the work of tenants' rights groups is very important in building a defense for them.
Building a foundation requires strong pillars. Right to the City Alliance outlined in its report, Rise of the Renter Nation, accessibility; long-term stability; protection from displacement; health, sustainability and quality; and finally, community control are the basics needed to grow a housing movement that is "too big to fail."
Araceli from the Santa Ana Collaborative for Responsible Development summarized it best:
"Housing justice for me is when all families can live with dignity and without fear that they will be evicted. Housing is a human right—not just for those with power and money or who have businesses leaving the community in the dust. There is displacement around the world precisely because of this capitalist system that disregards our communities. For this reason, we unite to work and fight for our housing and dignity so that families can live without fear [of being displaced and evicted]."
This is just the beginning. We'll all meet again in the fall in a similar but much larger assembly in the Bay Area to continue to build and align our work, and develop and ratify a shared platform for housing justice.
Why? Because housing is a human right.