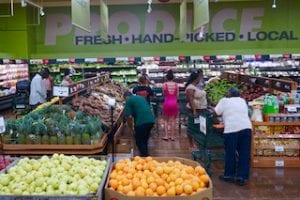 Sue Joss and Jason Barbosa might seem to be unlikely economic development partners. She is the veteran CEO of a major nonprofit health care provider in Brockton, Massachusetts, just south of Boston. He is the operations manager of a family-run grocery company launched by his immigrant father in the same working class city.
They come from different backgrounds, operate different business models, and manage different financial pressures. But they have a common customer base that includes a large number of low-income residents, many of whom grapple with chronic health conditions.
Three years ago, they began to talk: Was there a way they could create jobs, grow their local economy and reduce blight, all while helping people live longer and healthier?
Their answer to the question sits at the corner of Pleasant Street and Warren Avenue on a commercial site that had been abandoned for the last 22 years. Joss and Barbosa led the side-by-side development of a new Brockton Neighborhood Health Center (BNHC) and a new Vicente's Tropical Supermarket. Opened in 2015, they are connected both physically and programmatically by a shared purpose: to help people eat better.
Together, BNHC and Vicente's tapped into a complex mix of public, private and philanthropic funding to help open the doors, including $12 million assembled from the Local Initiatives Support Corporation's (LISC) national lending pool and our Healthy Futures Fund. The project had strong support from local policymakers and community leaders, but nothing would have happened had Joss and Barbosa not spent many hours talking, planning and driving it forward.
The thinking behind the partnership was basic: Good nutrition is a critical component of good health. Indeed, with nearly one in four Brockton residents living in poverty—along with high rates of diabetes and obesity, and a population of immigrants and first-generation residents for whom food is a cultural touchstone, it would be difficult to tackle chronic health conditions without a focus on food.
"We've seen for years what happens in a nutritional food desert: people become sicker as they age than they otherwise would," said Joss, long-time CEO of BNHC. "Our goal was to identify ways to expand access to fresh, affordable food in Brockton, to offer solid nutritional information so people can make smart choices, and to teach people how to cook in ways that protect their traditions but help them eat better."
The result is a level of community outreach and on-site education built on the expertise of both BNHC and Vicente's. The health center offers a range of primary care, urgent care, dental, vision, and mental health services, along with teen programs and nutrition counseling. Clinicians write "veggie scripts" for patients as part of efforts to promote heart health and weight reduction. They urge patients to enroll in free nutrition and cooking classes, taking advantage of an on-site demonstration kitchen. Guided supermarket tours help people better understand nutrition labels and make healthy ingredient substitutes. In addition, the store is testing incentive programs that both encourage healthy choices and keep food affordable.
"We're focused on 'fresh' when it comes to our market and making a difference in the community," said Barbosa, whose family has a long history in the supermarket business. "Knowing we could inspire more people to eat fresh, healthy food made this partnership worthwhile."
Joss and Barbosa also recognized the potential economic impact of their partnership: some 200 jobs for people in the surrounding community, from health professionals to retail clerks to administrative staff. "People see that there is work and there is hope and we can grow with that in the future," Barbosa said.
It remains to be seen whether this joint effort will significantly shift long-term health trends in Brockton. The two businesses have had their doors open for just a few months, so programming will continue to evolve based on local needs. But the immediate impact on this community is clear: a vibrant commercial corner is helping push out blight and crime in favor of health-focused products and programs that benefit nearby residents—we call that success.
As is often the case in community development, the most successful programs and projects are those that rise up from the ground level, from a deep understanding among residents and local leaders about what their neighborhoods need. Brockton is another example that proves the point.
(Photo credit: Shoppers at Vicente's Supermarket, by Samuel Dolgin-Gardner)