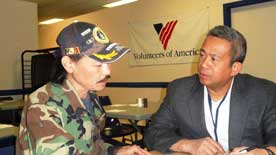 On January 23, 2012, the Metro Denver Homeless Initiative conducted a Point-in-Time (PIT) survey. The survey efforts involve hundreds of volunteers who record the number of homeless individuals and their needs on a single night of the year. The survey revealed that on that night, 12,605 persons were homeless in the Denver metro area, a
seven-county jurisdiction. Of the more than 5,500 direct survey respondents, 710, or 12.9 percent, self-identified as military veterans.
Many of these veterans reported that they were residing in emergency shelter, transitional housing, or staying temporarily with friends or family. Upward of 109 veterans reported being unsheltered. Overall, 92 veterans were classified as chronically homeless. As within the general homeless population, lack of connection to benefits, health resources, and substance abuse problems were regularly reported by respondents.
David and his family were among those counted. An honorably discharged Vietnam-era Army veteran, David, along with his wife, Mary, had been living on the streets for seven months after being forced from their home due to a mold infestation in January 2012. They initially sought refuge with David's mother, but she died soon after, leaving them homeless. They considered accessing an emergency shelter, but ultimately decided it was not a viable option because they did not want to give up their beloved dog. For days, weeks, and months, they tried accessing housing and benefits with little progress—largely due to the fact that they did not have a reliable phone number with which to maintain contact with veteran services. David says that for a long time, whenever their case manager found an apartment that met their needs, the case manager couldn't make contact in time.
The process of background checks also proved to be a barrier to the couple finding housing. Although David passed several checks, Mary did not, as she had recently been released from jail. The couple also had legal trouble in certain jurisdictions within the metro area, and in some instances refused to go into those areas for fear of being rearrested and receiving long jail sentences. As a result of this fear, David and Mary were limited in the number of services they were able to access.
Expediting Relief for Homeless Vets
To better serve veterans like David, the Denver VA Homeless Programs and Denver metro community partners collaborated with the Dept. of Veterans Affairs, U.S. Interagency Council on Homelessess, Dept. of Housing and Urban Development, the Rapid Results Institute, and the Community Solutions 100,000 Homes Campaign to expedite service provision. Spurred by the innovative practices adopted by service providers, a culture of quality service defined by rapid results was born.
Providers coordinated regularly to identify and address barriers before they became rooted, and explored opportunities for inter-organizational collaboration, sharing of resources, and collaborative outreach. Service providers also began to co-locate their eligibility screening times to ensure that services were made easily accessible, and encouraged employees to communicate directly with their colleagues (as opposed to always communicating through managerial ranks) in other agencies to coordinate service plans. Group members shared examples of effective service delivery in order to identify practices that were, and were not, working. What began as a series of meetings designed to promote accountability, outreach, and coordinated data collection developed into a cultural renaissance among service providers that provided tangible benefits to homeless veterans.
Veterans face many of the same barriers to stability—including high housing costs and co-occurring problems—as the general homeless population. Yet many homeless veterans face unique challenges, which can include physical and mental health concerns tied to their military service, resulting in their disproportionate representation within the homeless population. These co-occurring issues often go undiagnosed and, even if identified, are regularly left untreated due to lack of access to resources.
In David's case, mental health issues were greatly exacerbated by living on the streets. He reported feeling like his life was spinning out of control and, at one point, was put on a 72-hour mental health hold at the local VA Medical Center. Although he received services from the VA, he did not have adequate transportation and could not always pick up his medication. David's family recognized his fragile condition and knew that stable housing was the only path to survival.
Next Step—Housing 100
Stories like David's served as a catalyst for the next step in the evolution of the 100,000 Homes Campaign in Denver. Community organizations throughout the Denver metro area signed on to tackle a seemingly impossible task—housing 100 veterans in 100 days. In what has come to be known as the 100 Days Cohort, service providers focused on reducing the length of time from referral to housing placement, and created a process for efficiently distributing resources through collaborative one-stop service delivery events, designed to co-locate and coordinate veteran service providers and resources.
Commonly represented services and resources have included VA benefits, HUD-VASH supportive housing vouchers (with on-site approval), Veterans Justice Outreach, housing assistance, employment and education assistance, financial counseling, tax preparation, mental health and addictions resources, peer mentorship, legal services, food, clothing, and haircuts. While the first one-stop event attracted fewer than 20 veteran households, the extension of basic outreach efforts flyers and referrals from service providers has resulted in an average attendance of 100–150 veteran households.
By attending an event where dozens of service providers are under one roof, veterans can access a wide spectrum of services immediately, and service providers are able to ensure that resources and services are not being duplicated. In addition, outreach efforts promising expedited service delivery resulted in large turnouts of veterans in a population known for not frequently self-identifying.
Relationships developed through the collaborative resulted in staff members being better educated about eligibility and each other's programs in general, which facilitated improved referral processes. In turn, participating agencies shared their documented outcomes, fostering a sense of shared mission within the community. Providers reduced housing placement times by an average of 45 percent with services targeted to the chronically homeless accessible in one location. This one-stop service model, similar in nature to veteran Stand Downs and Project Homeless Connect, was swiftly adopted and replicated on a recurring basis by the 100 Days Cohort as the rallying cry for future service delivery efforts. Permanent one-stop service centers are now being designed to replicate the model on a daily basis.
After being connected to the Volunteers of America Support Services for Veteran Families program, or SSVF, through the VA Community Resource and Referral Center, David and his family were able to attend a one-stop event. With the help of the community, the 100 Days Cohort, and SSVF, David and his family finally had the support and resources they needed to find housing. After four months of searching, David and his family were housed—empowered by the network of support represented by the 100 Days Cohort. Their story represents the reality behind each number in the ongoing effort to end veteran homelessness, one veteran, one family, one home, at a time.