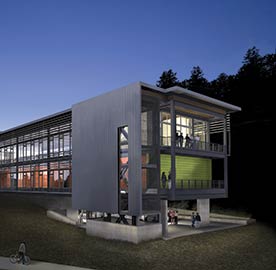 An impact investment can take on many shapes and sizes, and as the concept has evolved, there are now more opportunities for all types of investors to get involved — from the individual who invests less than $100 online, to the institutional investor providing millions at a 5 percent return. But while the vehicle for the investment and the terms of each may look different, the common story lies with the potential for great impact. As the following profiles exhibit, with impact investing, the "impact" component is often as important — or more important — than the financial return for the investor.
Each of these stories takes a deeper look at the difference an investment makes beyond the dollars, from spurring economic development and access to healthy food options in low-income communities to preserving affordable housing options for adults with disabilities.
Enterprise Community Impact Note
Housing Partnership Equity Trust
California FreshWorks Fund
The Disability Opportunity Fund
Enterprise Community Impact Note
Project: Technology Access Foundation's Bethaday Community Learning Space, King County, Washington
Impact: Accessible technology education and afterschool support for low-income students; construction jobs.
Investment Type: Philanthropy, working through an impact investing product offered by an intermediary.
Website
Call it the pride of White Center. At least that's what the Bethaday Community Learning Space, a state-of-the-art 24,000-square-foot community facility and home to the nonprofit Technology Access Foundation (TAF), has been to the residents of White Center since it opened in October 2012. The center now houses most of TAF's programs, which cater to low-income middle-school and high-school students of color, providing them with STEM (science, technology, engineering, math) programs designed to help them succeed in college and their careers. About 80 percent of the students TAF serves are on free or reduced lunch.
White Center is just outside the Seattle city limits, part of an unincorporated area of King County. The new facility is outfitted with learning labs featuring rows of laptops, the newest technology, and wireless throughout the building. According to TAF co-founder and executive director Trish Millines Dziko, TAF is one of the few STEM education providers in the community. "There are some groups that might do math tutoring, but we are a full education organization. When we live in a state that prides itself on its high-tech and biotech prowess, it's really important that the kids we serve have access to that education."
TAF is a 16-year-old organization that was based in Seattle until the Bethaday Community Learning Space was completed last year. For the last eight years, though, TAF has been serving students in White Center, which Dziko says made the organization's staff feel split, because they didn't live and work in the same place as their White Center students.
The new space not only gives them a local presence, it also serves as a gathering place for community residents. There are multipurpose rooms than can be leased out to community organizations or other private groups for functions and the building itself is open to the public. "We're really a community center without a gym," says Dziko. "Instead of a gym, we have learning labs."
A new mixed-income housing project recently opened in TAF's backyard, which will make that role even more important. "To have something like this that belongs to the community is really a surprise to a lot of folks," says Dziko. "They come by and when they realize it's open to the public and hear more about what we're doing in this building, they are very happy."
TAF currently has the capacity to serve 290 students at the facility after school and on weekends, and it served 100 kids this year at its summer camp. In addition, during the summer it trains public school teachers in interdisciplinary teaching, project-based classroom learning, and strategies for incorporating the new Common Core requirements into their curriculum.
Building the new facility was a $12.5 million campaign, $1 million of which came from the Seattle Foundation as part of its mission investing program. TAF has been a long-time grantee of the Seattle Foundation, with grants primarily given for general operating support, but this $1 million investment from the foundation specifically went toward building the new facility in White Center. The investment was the first time the foundation made a investment for the purposes of generating both financial and social return.
The Seattle Foundation invested through an intermediary, Enterprise Community Loan Fund, based in Columbia, Maryland. Enterprise offers the Community Impact Note, a retail investment product designed to allow anyone to invest — with a minimum of $5,000 — in organizations and projects pursuing the greater social good. The product has investors who range from families to college students and retirees, with returns ranging from 1.5 to 3.5 percent depending on the term.
Generally, those who invest in the Community Impact Note are investing in Enterprise's fully diversified portfolio, and Enterprise acts as the investment manager. In the case of the Seattle Foundation, its investment was targeted to job-creating projects in King County like the new TAF facility.
Enterprise holds loan loss reserves on all its projects, reducing the risk to an investor should the project go south for any reason. "Even when targeting an investment, the investor gets all the benefits of our full portfolio," explains Liz Sessler, investment marketing manager for the Community Impact Note. "Ultimately it's a win for everyone involved."
In total, Enterprise Community Loan Fund provided a $2.9 million bridge loan to build the TAF facility; the Seattle Foundation's $1 million investment was included as part of that loan. Additional financing for the project included a $2 million grant from King County and a $1.5 million grant from the state. Enterprise also provided $12.5 million in New Market Tax Credits allocation, for which U.S. Bancorp Community Development Corporation was the equity investor.
Enterprise vetted the opportunity through its investment committee and then, knowing Seattle Foundation worked with TAF, it played matchmaker, offering the foundation the opportunity to start its mission investing program with an investment that would go toward the new facility. Michael Brown, vice president of community leadership at the foundation, says when Enterprise suggested they become an investor in the project it was a no-brainer. "The investment was a way for us to not just support education for kids, but the construction project would also generate a number of jobs, and the facility itself would allow TAF to expand its staff," says Brown.
"We really believe that these kind of facilities should be in the middle of communities," says Dziko. And that's exactly what TAF got with its investment in the Bethaday Community Learning Space. "The kids just have to walk here. They don't have to get on a bus or take a trip somewhere to see something that's nice and that they can be a part of."
Housing Partnership Equity Trust
Project: Eden Housing, Woodside Court, Fairfield, California
Impact: A development of 129 units of affordable housing preserved for the long term.
Investment Type: Real estate investment trust with corporate and philanthropic investors.
Website
Nonprofit housing provider Eden Housing had been eyeing Woodside Court, a 129-unit affordable housing development in Fairfield, Calif., for some time. Eden's niche in the California housing market is as a long-term owner and operator that places a great deal of importance on quality management and creating a secure community for residents. The current owner of Woodside Court wanted to exit, but it was locked into its current financing for another 10 years. According to Eden president Linda Mandolini, that made the property attractive to the nonprofit because "it needed a good owner that can hold." Typically, when a project changes hands, there's an opportunity to resyndicate it relatively soon, and as a result it tends to go for very high prices and is snatched up by for-profit owners, says Mandolini.
Because Eden is a housing provider committed to long-term ownership and preserving affordable housing, Woodside presented a perfect opportunity — except for the part where they couldn't provide the upfront cash it would take to assume the existing mortgage in the short turnaround time required for closing.
As with many other opportunities where the property was a good fit but the terms were unrealistic, that could have been the end of the road for Eden. They could have been outbid by a for-profit company, which would have likely raised rents for the residents of the development, resulting in many getting displaced.
But this time was different. Eden Housing was able to acquire the property for approximately $4 million and close within 90 days, thanks to a newly formed real estate investment trust (REIT). Launched in April with $100 million of funding, led by the Housing Partnership Network in partnership with 12 high-performing nonprofit housing providers across the country (of which Eden Housing is one), the Housing Partnership Equity Trust (HPET) is transforming the way nonprofits are able to buy and protect affordable housing.
The Housing Partnership Network raised the initial $100 million in capital for the fund from several big players, including Citi, Morgan Stanley, Prudential, the MacArthur Foundation, and the Ford Foundation. That capital investment is then deployed into the 12 nonprofit members of the REIT, providing a ready source of funds to acquire deals that have a social mission, like Woodside. The investment fund reduces transaction costs for the nonprofits, as well as the time it takes to close. "This is giving the initial investors a way of deploying capital through various strong nonprofits to make a difference in a community and to help that nonprofit do something that they otherwise couldn't do," says Thomas Bledsoe, CEO of the Housing Partnership Network.
The deals that the nonprofits have sourced as a result of HPET are accumulating quickly. Woodside Court in Fairfield was the second deal closed by the REIT, and a third development, Woodmere Trace, located in Norfolk, Va., closed in September 2013. The first deal closed in conjunction with the launch of HPET in April, a 128-unit property serving a working class section of Aurora, Ill., which was acquired for $5.2 million by the Chicago arm of Mercy Housing. The HPET allowed Mercy Housing to beat out several other bids and to put $1.5 million into rehabbing the property and individual units.
As mission-driven nonprofits, both Eden and Mercy's first priority is to the communities where they own properties, and the trickle-down effect on the residents is apparent. For example, many of the residents of Mercy Housing's property in Aurora are long-time residents with strong ties to the community. One retired woman has lived in the development for 30 years and spent her career working for the city as a dispatcher, while her father was a city police officer. Cindy Holler, head of Mercy Housing's regional office in the Midwest, says that even the current rents are still a stretch for many residents. Mindful of the realities for this working-class community (the median income among residents is $26,000), Holler says that if Mercy Housing raises the rent at all, they will do so in a way that is commensurate with good property management and inflation. Similarly, at Woodside Court, it is part of Eden's philosophy that rents don't go up. The rents in the building are all restricted and a majority of the current residents are at or below the median income, according to Mandolini.
Eden, and all the other nonprofits that are part of the REIT, are not just preserving affordable housing developments; they go a step beyond as property managers, says Mandolini. Eden runs several programs for residents, such as providing scholarships for high-school age residents for college, a technology program to teach seniors how to use computers, and a certified crime-free program that they run in partnership with the city. "Because we are nonprofit, we are always thinking about how our housing can be a platform for family success, or aging in place, and what our reputation is in the community," says Mandolini. "We think about how we can make our properties a place that isn't just a building for the sake of being a building that houses people, but a building that creates community."
While the HPET is still a relatively new model, its potential is exponential, says Bledsoe. "We are already seeing in these first three deals the magic that this money can have." At the Clinton Global Initiative in 2013, HPET announced its commitment to raise an additional $500 million for the REIT. The nonprofit members are dedicated to making the model succeed. Holler says she hopes the model serves as an example for more people, including for-profit developers, to operate in much the same way. "We hope to draw others into understanding this sector so that the market works better for people and communities," she says.
California FreshWorks Fund
Project: Northgate Gonzalez Market, Inglewood, Calif.
Impact: Access to healthy, culturally appropriate food in a previous food desert; jobs.
Investment Type: Public-private partnership loan fund, including institutional and individual investors.
Website
In 2012, grocery operator Northgate opened a brand new 40,000-square-foot store in the low-income neighborhood of Inglewood, California. Northgate Gonzalez Market, which has come to be called the "Hispanic Whole Foods," doesn't just dedicate a certain amount of square feet of the store to healthy food options; it is also committed to serving the residents of that community through culturally appropriate inventory and other educational and social services tied to leading a healthy life. For example, because Northgate Gonzalez serves a primarily Latino community in Inglewood, it has a tortilleria as one of its in-store specialty offerings. The grocer also partners with the Los Angeles Department of Public Health to offer free health clinics in the store, and regularly holds cooking demonstrations to give shoppers ideas for how to cook healthy meals.
The opening of Northgate Gonzalez in Inglewood was significant — even attracting a visit from First Lady Michelle Obama — because it expanded access to healthy foods in a typically underserved area of Los Angeles. The site where the new store now stands used to be home to another grocery store abandoned by its owner. For a while, the lot sat vacant, the old store building covered in graffiti. Now the neighborhood has seen an economic resurgence of sorts, and for the first time, its residents don't have to go elsewhere to find healthy food options. "It went from being this vacant, blighted building to a store that is consistently busy and beautiful," says Catherine Howard, the senior program manager for Capital Impact Partners. "It's just been truly transformative for that neighborhood and for that larger commercial corridor." Northgate is a family-owned chain of supermarkets operating in the Los Angeles and San Diego metropolitan areas. Together with another location they recently opened in City Heights, the company is able to provide access to fresh foods for more than 200,000 people, as well as provide full-time jobs with paid time off, healthcare benefits, and retirement benefits for more than 250 local residents. Northgate Inglewood and City Heights are two of the grocer's total 36 stores in Southern California.
The two were financed through a large statewide initiative around building healthy communities called the California FreshWorks Fund. California FreshWorks is a $200 million public-private partnership loan fund started by the California Endowment in 2010. So far, the fund has provided 19 loans and/or grants to 17 food retailers and distributors willing to locate in "food opportunity areas" (often referred to as "food deserts"). In addition to increasing access to healthy food in underserved communities, the fund was also created to spur economic development that supports healthy communities and to inspire innovation in healthy food retailing. The California Endowment selected Capital Impact Partners (formerly NCB Capital Impact) as the fund manager, charged with sourcing new projects, interfacing with the industry, and channeling money from the fund.
The fund is administered through several types of financial tools, from loans and debt capital to New Market Tax Credits, so it provides an opportunity for all kinds of investors to get involved. For example, the California Endowment allocated $30 million to the fund as part of its mission-related investing, which became part of a $125 million loan pool that includes capital from commercial investors such as JPMorgan Chase, Morgan Stanley, and Bank of America, as well as from individual investors who have an interest in investing for impact. The fund is unusual in that it incorporates investments as small as $20 from individuals who have invested through the Calvert Foundation. Calvert uses brokerage platform MicroPlace to aggregate impact investments from individuals, which are in turn invested into the syndicated loan pool at a rate of about 3 percent return. Comparatively, the California Endowment is invested at 7 percent, and the banks at around 5 percent. Investors are already seeing returns from loan interest payments.
Capital Impact Partners, which is also an investor in the fund in addition to being the fund administrator, has covered a lot of ground in the two and half years since the fund launched. While there are the big projects like Northgate Inglewood that involved financing a brand new store, there are also just as exciting projects made possible by much smaller investments, such as the one NCB is making to a farmer in Yellow County to open a mobile market that will serve rural communities of farmworkers who don't have places to shop. "At this point, we have enough dollars on the table that we can have a pretty significant impact in communities across the state," says Howard.
The Disability Opportunity Fund
Projects: 16 single-family homes, four multifamily projects, two schools, and two community centers.
Impact: Accessible buildings and services serving over 500 people with disabilities.
Investment Type: Community development financial institution.
Website
Every loan and every investment that The Disability Opportunity Fund makes is a story of the individual. Become involved as an investor with the DOF and it's not hard to see the direct impact that the money has on a person or a family affected by a disability. Just ask Charlie Hammerman, founder of The Disability Opportunity Fund, the first national community development financial institution created for the disabled community. Hammerman started the organization five years ago after recognizing the gap in housing and related services for people with disabilities and their families. The DOF, which is based on Long Island in Albertson, N.Y., was a marriage of Hammerman's personal and professional lives — a former Wall Street executive who knows the very personal challenges of having a daughter with a disability.
Given that one in five Americans lives with a disability, the market is ripe for opportunities for the DOF to serve the community, and that is exactly what Hammerman has gotten to work in doing. In the five years since its founding, the DOF has made a total of 25 loans that have translated into financing for 16 single-family homes, four multifamily projects, two schools, and two community centers. Some projects are focused on physical accessibility, while others incorporate housing and services.
Overall, the DOF has been able to directly reach 507 people with disabilities through its services. "The most important metric for us in measuring our impact is the number of people we reach," says Hammerman. "They are the ultimate beneficiary." Because government agencies and traditional lenders rarely provide the type of financial support needed for people with disabilities, most of the DOF's beneficiaries have ended up low-income. Without access to affordable housing units or help in refinancing a home, many of these people would not be able to remain in their communities, says Hammerman. The DOF's ultimate goal is to utilize its capital and industry "know-how" to help people with disabilities live in safe, affordable, and appropriate settings.
The DOF prides itself on the partnerships it creates with the private sector, and has teamed with banks, insurance companies, nonprofits, and large corporations to achieve financing for these projects through a mix of co-lending, direct lending, bridge and term loans, and acquisition and rehabilitation financing. The DOF itself is sustained by grants and program related investments, with its biggest supporters including Citibank, Rockefeller Foundation, JPMorgan Chase, Bank of America, and Prudential, to name a few. But Hammerman is moved by the individual investor, and believes the personal nature of the DOF's projects presents a unique opportunity for those not just looking to make an impact, but also to reap a financial return. In fact, the DOF has received a total of $750,000 from individual investors, structured as 5- or 10-year term loans with a rate of return between 2 and 3 percent.
Hammerman says it's easy to see the immediate results of those investments in the communities, even before the money gets paid back. Of the 24 loans that the DOF has made, 6 have been paid back in full already before they reached their term, and were able to be turned over and reinvested in other projects. "It's a selling point for us to be able to show that the investor's money becomes a bankable deal in the very early stage of its term," says Hammerman. "That's a big return in terms of impact that doesn't show up as part of the bottom line 2 or 3 percent." A typical $250,000 investment by an individual translates into about two or three loans (depending on the nature of the project), and during a five-year investment, Hammerman says there's a good chance the DOF will turn that money over twice.
The DOF also provides technical assistance, which involves educating potential investors about project-specific opportunities. Hammerman says when he goes out into communities and speaks to people affected by a disability, they want to know what they can do to help. Rather than focusing on the traditional fundraising model of holding a benefit gala or a golf outing, Hammerman believes there is more power in connecting an individual supporter with a specific project. For example, if someone is a benefactor of a school for autism that school needs to build a new wing and their child goes to that school, and they have the ability to give $100,000 or more at a fundraiser, Hammerman wants to better channel that money as an investment. "It's much more effective for that person to lend the $100,000 through the DOF so the school can get to the same place faster," says Hammerman.
This kind of personalized service affords families the opportunity to act as the bank, much like the Constellation Cooperative Housing project accomplished. The project involved the purchasing of a five-bedroom residence for adults with Autism Spectrum Disorder, but it was unique in that it was partially financed by the parents of the adult children who now live in the residence. The group of parents approached the DOF with the idea of creating a co-op model that would allow their adult children to continue living in the community while the parents maintained control over the services provided in the home. "There's a sense of feeling good about their money working for them, but also working for society and the important projects that need to get done," says Hammerman.