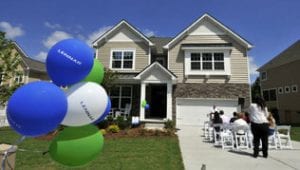 In a recent article, the Charlotte Observer highlighted a "new" trend in homebuilding: the multi-generational home.
Home builder Lennar Corporation and others are rolling out prototypes for multifamily housing in a single-family design, taking cues from an increasing demand in the housing market for space for elderly relatives and college graduates.
But this idea is nothing new. Cities across the country have examples of duplex and triplex buildings where generations of families live together under one roof, but in independent spaces. This type of development is not common in the suburbs, however.
Lennar and others are planning to incorporate "multi-gen" homes into their new and proposed subdivisions, but what will be interesting to see is if the trend moves to older neighborhoods as well. One would expect that, as stories of adult children living at home and elderly parents moving in with family become more common, homeowners would increasingly pursue additions to, or rehabilitation of, existing homes to accommodate that need.
This idea is one that planners and housing experts will cheer, yet there are three reasons why the actual implementation may encounter significant resistance in many communities:
Most single-family neighborhoods in suburban communities do not allow separate apartments. Having an "in-law suite" or accessory dwelling with distinct cooking areas is restricted by zoning regulations as the existence of a separate apartment immediately turns the single family home into a multi-family home.
Even if such units are allowed by way of an accessory dwelling ordinance or other more flexible code, neighboring property owners may resist the development of such units through homeowner associations or similar covenants.
While most people would find the proposal of an in-law suite reasonable in the case of elder-care, what happens if the apartments are rented out? Would the neighbors still find such an arrangement suitable for single-family neighborhoods?
As the private sector begins to embark on a building style that many who work toward housing affordability, density, and inclusivity have been pursuing for some time, it will be interesting to see whether the age-old barriers to such developments will emerge.
This might be a key time for planners, policymakers, and homebuilders to join forces to encourage multi-generational housing in single-family neighborhoods so that local governments have a strategy when the NIMBYs come knocking.
[Editor's note: On a related note, see Jeremy Liu's Shelterforce essay about multifamily housing financing, "Housing for Families, Not Just for Households."]