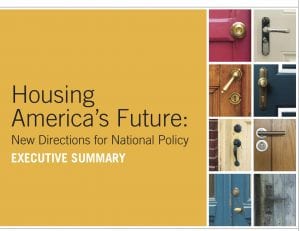 Earlier this week the Bipartisan Policy Center (BPC) released its Housing Commission Report: Housing America's Future: New Directions for National Policy.  As an advisor to Janet Murgía, NCLR President and CEO, who served as a commissioner, I had a unique opportunity to see this report come together.  Each of the co-chairs commented at the outset that the final report is not what any single commissioner would have written on his or her own.  In fact, it was a true bipartisan effort where everyone compromised a bit for the benefit of a productive outcome.  These days Washington could sure use a few more such efforts.
The report lays out a compelling picture of our nation's rapidly changing demographics and the implications for our housing stock and housing policy.  The Pew Research Center estimates that 10,000 Baby Boomers will turn 65 every day for the next 19 years.  For this cohort, age and retirement will bring a different set of housing needs.  Borrowers of color will drive much of the household formation during those years, and will be the likely consumers of those Baby Boomer homes when they choose to downsize.  In fact, by 2020 half of all first-time homebuyers will be Hispanic.  Yet our community has been hard hit by the recession and the lingering effects of predatory lending and foreclosures.  We've never had large sums of inherited wealth to draw from for downpayments, but since foreclosures wiped out 66 percent of our wealth, homeownership is feeling even further out of reach for some. The next iteration of our housing finance system must reflect these realities and meet the needs of renters and aspiring homebuyers.  The report acknowledges this by stressing the importance of maintaining access to affordable credit for all qualified borrowers via a system free from discrimination.
While the community has been hit hard, we are not giving up on our neighborhoods or our communities' aspirations for homeownership.
We know how to make this dream possible for a broad base of would-be homeowners.  When families get housing counseling, good underwriting, and a 30-year fixed rate mortgage they are very successful—even with low-incomes or low-downpayments.  This is why it is so exciting to see a bipartisan group rally around housing counseling.  The NCLR Homeownership Network counsels more than 65,000 families a year and has helped thousands secure their first home.  This report includes a recommendation to make objective advice broadly available to homeowners before the sign their loan documents.
Elected officials and the administration must get serious about addressing our housing challenges.  Housing has traditionally led the way to economic recovery.  Despite recent gains, the housing market has so far lagged behind growth in the broader economy, translating into billions of dollars in lost economic output and millions of missing jobs.  Moreover, our challenges do not stop at homeownership.  A majority of the most vulnerable among us spend more than half their income on housing.  Federal housing assistance is only meeting a fraction of the need.  The report recommends restructuring federal assistance to focus on worst-case needs.  This is a bold and courageous recommendation that deserves notice.
Six years into the housing crisis, the federal government is backing 9 out of 10 mortgages, too many creditworthy households are unable to obtain home financing, and the number of low-income renters experiencing "severe" housing cost burdens is at an all-time high.  This situation is not sustainable, nor desirable.  It is time to come together on a twenty-first century vision for housing policy that better serves our families, neighborhoods, and economy for generations to come.
[Ed note: for another take on one of the commission's recommendations see Dean Baker's post from earlier this week.]