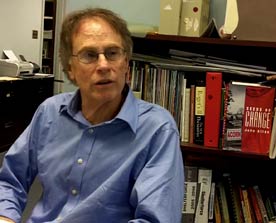 You've said that your book was originally intended to be about an organization that no one has heard of, but should have. You now say that it's about an organization about which "everything you know is wrong." What happened?
ACORN made no attempt or very little attempt to be a nationally known organization. They were well known in the neighborhoods where they served and [where their] chapters were increasingly becoming huge political players, such as New York, Chicago, New Orleans, California, Minneapolis-St. Paul. But many of the chapters were mostly focused on trying to mobilize low-income communities to solve very local problems; as a result, most of the press was local.
In the last issue of Shelterforce, you detail how the mainstream media failed to report accurately on the attacks on ACORN. Do you think this historically below-the-radar approach actually had a negative effect on fending off a national attack?
I think it was a problem for them. As ACORN became a significant player on the national political scene it was important for them to define themselves before their enemies did. They had a very difficult time doing that.
ACORN is a unique American institution: it was very difficult for reporters to wrap their brains around what they did. It was hard for me, and I was immersed in the organization! I was embedded with ACORN for four years in preparation for writing this book. I'm the only journalist that went to their staff meetings, their board meetings, their demonstrations, and had access to all their internal e-mails. I knew everything about them, but trying to describe the organization was very hard.
They were involved in electoral politics, but they weren't a political party. They were a community organizing group, but they totally broke down the traditions of Saul Alinsky — Alinsky would have never conceived of a group claiming to do community organizing actually going out and organizing labor unions. As part of ACORN's family of organizations, they had two powerful labor organizations, one in Chicago and one in New Orleans. Alinsky would have never believed in endorsing candidates or even registering people to vote. This was totally outside the scope of traditional community organizing.
They were also involved in the schools. ACORN managed to support the teachers' union as well as support local control of schools. ACORN certainly helped people get food and clothes, but they weren't a charity. They did tax counseling, home counseling, but they weren't in any way a service agency. This was outside the scope of most journalists' understanding of what ACORN did.
It was so complex that it made them an easy target.
Well, I think that journalists could have figured it out. You can write an article about complicated things, but it would have taken time. The thing that the mainstream media did not do when the crisis hit was report and investigate who ACORN was.
It also didn't help that the Obama administration basically threw ACORN under the bus. Having your president and your national Democratic leaders help define how successful ACORN was would have helped. Also, The New York Times could have reported accurately. They constantly got the story wrong with egregious errors. The Washington Post was even worse. CNN just followed whatever Fox said. I mean, Fox is going to do what they're going to do, but the mainstream media could have corrected the errors.
And then the progressive forces could have been more vigilant in coming to the aid of ACORN. All those things could have helped keep ACORN alive. But it's hard to say.
You were embedded when John McCain said ACORN was committing the "greatest voter fraud in history." What was crisis control like? That must have signaled a huge problem for ACORN.
Well, the first response for most people in ACORN was shock. They never saw themselves has being as powerful as the right wing had seen them. On the other hand, they liked it! They thought it gave them credibility among progressive organizations and progressive funders — perhaps more credibility than they might have been entitled to.
But again, they were up against an international media conglomerate known as News Corp, and the head of Fox News was Roger Ailes, a former GOP political operative — the same guy who was partly responsible for the famous, and racist, Willie Horton attack ad that destroyed the candidacy of Michael Dukakis. This is a man without any scruples; he's not a journalist, yet he's in control of one of the four national networks. That network, of course, was willing to go 24/7 attacking ACORN because it boosted their ratings, and they could care less about who was hurt.
A central theme to my book is ACORN's relationship to Obama and his treatment of ACORN, which I think became a symbol of how the president and his supporters and his administration detached themselves from the progressive base. I think there were reasons to do that initially, but I think Obama's treatment of ACORN shows how his administration was intimidated by Glenn Beck, Fox News, and the right-wing echo chamber. And I think that if they had supported ACORN, instead of throwing them under the bus, they would have avoided the embarrassing Shirley Sherrod incident, which was a duplication of what happened to ACORN.
If we're going to have an effective war on poverty, we do need the president to support those groups who are fighting that war. They supported him.
You're trying to give a complete and honest account about ACORN, including how it's an imperfect organization with the embezzlement issues, and its lack of media response —
— and more (laughs)
— right, and more. Talk about the challenges of trying to write an honest portrayal amid a climate of exaggerated claims against ACORN.
I stuck to the facts. I called both sides, followed the conservative blogs, and talked to as many people as I could to find out what the truth was, particularly when it came to ACORN's voter registration work, for which they were attacked. I tracked down every accusation the conservative media was making. It was sort of easy — I was just going to go where the facts were. If it turned out that ACORN was a corrupt organization, that's where I was going.
The embezzlement caused serious internal turmoil within ACORN and so I went to see how they were dealing with it. I thought the way Wade Rathke handled the embezzlement story was wrong. He needed to report this to his board, and certainly to his major funders and those funders potentially affected. He didn't, and that was a mistake.
What was fascinating, to me, and what was not reported at all, was how ACORN responded to this. They hired a new leader, Bertha Lewis, who was a fanatic about straightening out ACORN's internal problems. She wasn't going to tolerate any of that. No more poor supervision: she hired accountants, consultants, lawyers, sought strict compliance with every law, and devoted scarce resources to fix the problems. You would never know that from the mainstream media. It was too difficult and too uninteresting to report on.
What is tragic, in the end, is that Bertha was on her way to fixing those problems.
How hard was it for ACORN to keep focus on their mission at that time?
It was a mess. Bertha had to fix the internal problems while getting battered by Fox News. She didn't have a good communications set-up to respond. She herself was out there on Fox doing damage control!
But it did come as a comfort when the Harshburger report showed no illegal conduct from ACORN. The district court judge from New York said they were victims of a Bill of Attainder when Congress voted to defund ACORN; not only that, but in her opinion, the judge went through all the accusations and said there was nothing there. The attorney general of California, the district attorney of Brooklyn, an independent investigation by the Congressional Research Service, an independent investigation by the Government Accountability Office, and so on, all found ACORN did no wrongdoing.
We recently did a series of articles on the tensions between community organizing and community development. ACORN did both in a way that many organizations ought to: what made them able to do both of those things?
When you're a big organization, you can do a lot of things. Also, don't be afraid to experiment and get rid of what doesn't work.
One of the most important lessons of doing community development is that you have to have very talented people, and they better be dedicated and willing to work 24/7. This is not a nine-to-five kind of job.
Was ACORN's housing development operation substantially different from your traditional CDC?
I think ACORN's community development operation mirrored any of the successful community developers.
Did they draw on their organizing work when it came to their development?
There was always a tension there and they held workshops so they could figure out how to integrate development work into community development work. ACORN never felt that they were necessarily doing it right.
One of the sad stories about community organizing in America is the competition and tension between various community organizing groups. That kind of disunity has no value at all. People can compete, but when it comes to fighting certain battles too often — as Shelterforce wrote about when it came to post-Katrina New Orleans — there are issues of unity when it comes to common struggles.
ACORN was never able to maximize the organizing opportunities when it came to people coming through its housing corporation's office that got counseling services. They would have loved to include those people in their community organizing work.
Didn't they have an unusual approach where they would go out and protest predatory lending and then turn around and say those lenders should fund them? Was that an appropriate approach — getting grants from folks who had recently been their targets?
I have a whole chapter in the book called "Partnering With Your Enemy" that outlines just that. When they started fighting banks that they thought were discriminating against poor people in poor communities — before they had this community development corporation — they were also part of an effort to get banks to change their practices and move away from simply funding the arts. ACORN said "We're shaking the tree, but we're not getting any of the fruit." So, they decided to get involved in this community development work as well and they politicized it and made the fights for community development and saving affordable housing and turning abandoned properties into livable apartments more politically acceptable.
Michael McQuarrie recently wrote in Shelterforce about the group Empowering and Strengthening Ohio's People and how they have a better relationship with banks because of respect earned through negotiating the outcome of conflict. Did ACORN have that experience?
They had the same experience. In fact, one of the vice presidents of Citibank ended up being part of a organization that tried to save ACORN. It was a close relationship. When ACORN was fighting to save New Orleans, one of the banks that they had attacked in the past over discrimination and subprime lending was a significant supporter of ACORN's efforts to save the Lower 9th. The banks were impressed with the competence of ACORN's staffing and the partnership ended up being beneficial to the banks as well as the low-income communities.
What are the lessons to be learned from ACORN?
There are a lot of lessons: There are many, many poor people who were perfectly capable of helping themselves and winning victories and making a difference, if you have strategies and tactics that empower them. But you need to have, as part of your community development component, an empowering strategy, leadership development, giving people the skills and a stake in the outcome of the community development process. We can't do enough to empower ordinary people to take their problems into their own hands. If you're not building a capable constituency of low-income people who can help solve their own problems, the community development stuff doesn't end up being as significant in the long run.
ACORN empowered its members in numbers of ways. They were all urged to register to vote and to go to the polls; they all were urged to participate in decision making; they were urged to go out and demonstrate and mobilize. An activist culture within the organization is the most important lesson.
Can you talk about the art of having a national strategy while keeping the voice of the members alive and engaged?
It's one of the hardest things to do. It's a balance between recognizing that it's a good idea to have a hierarchy, while respecting the local decision making from the chapters. It's that combination of bottom-up and top-down, but you have to have the capacity to operate nationally and be in lots of places.
ACORN was very different than a lot of organizations fighting poverty because most of those organizations start in Washington, D.C., and then try to go down. ACORN started in Arkansas and built up. That was part of their success — that and it sometimes helps to start your organization in the South, rather than in New York or Washington.
It will be really interesting to follow organizations like National People's Action, which is trying to model ACORN's work and build a national organization by having its roots locally.
What are the prospects for ACORN moving forward with certain chapters forming independently?
If there's any doubt, I can report that there is no national ACORN. They are cleaning up and taking care of significant loose ends, including their lawsuit against the federal government, ACORN v. United States, which is the Second Circuit, and will be very important for the future of ACORN as well as its reputation. I think it's time for the Obama administration to apologize to ACORN for failing to defend them and to stop defending the "defund ACORN" law. They've been exonerated.
It's also time to end the organizations where the members are just poor people. That's not going to work. Shirley Sherrod recognized this as well. It's not only race, but class. It's essential to have organizations to represent not only the poor, but the working class as well.
But the question is, will they be able to replicate what that national organization was capable of doing: winning the campaign to increase minimum wage, fighting Household Finance, mobilizing 50 attorneys general, and so on.
In New York, New England, California, Indiana, Wisconsin, Minneapolis, Texas, New Orleans, and Louisiana the old ACORN organizations are operating independently, but know ACORN's success, and know the model combining community organizing, politics, demonstrations, and partnerships. I think they will succeed.
Thank you.