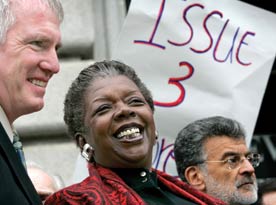 The death of U.S. Representative Stephanie Tubbs Jones of Ohio came as a shock not only because of its suddenness, but also because it was the loss of an affordable-housing advocate who strove for social and economic justice. Tubbs Jones, 58, died Aug. 20 after suffering a brain aneurysm. Popular not only in her district encompassing the east side of Cleveland but also throughout the national affordable-housing community, the congress-woman, a Democrat, helped to expand health-care coverage for low- and middle-income individuals. She was also the author of legislation requiring certification for mortgage brokers and penalties for predatory lending.
Tubbs Jones was lauded for her sponsorship of the Community Restoration and Rehabilitation Act, which facilitates the use of federal historic tax credits by nonprofit groups to restore historically significant buildings for mixed-income or supportive housing. The move was viewed as instrumental in offering better housing and encouraging revitalization in urban areas like Cleveland.
The five-term congresswoman also played a major part in an unsuccessful challenge to the congressional ratification of the 2004 re-election of George W. Bush — a process that is typically pro-forma. Then, in January 2005, she joined with California Sen. Barbara Boxer in objecting to the counting of Ohio's 20 delegates, citing irregularities at the polls.
The invocation of Tubbs Jones' name and legacy drew cheers at August's Democratic National Convention when Sen. Hillary Clinton in her prime-time address called the congresswoman "[s]teadfast in her beliefs" and "a fighter of uncommon grace." Clinton added that she "was an inspiration to me and to us all."