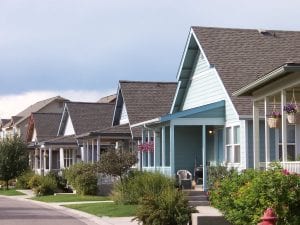 Editor's Note: With diminishing resources and increasing need, can affordable housing providers have the most impact by building as many units as possible for the lowest cost or by investing in design to increase neighborhood value? In the first side of the debate, architect Charles Buki examines the potential of design enhancement for neighborhood revitalization. In the second side of the debate, in the July/August 1995 issue, Robert Santucci argues for maximizing quantity.
When I visit the housing developed by community groups in America, I am simultaneously heartened and frustrated. I am heartened because it is extremely difficult to develop real estate, to acquire a meaningless piece of land and turn it into housing that people need. It takes vision. It takes money. It takes hard work. Sometimes the results are exciting, like when I visited Richard Bradfield's extraordinary public housing in Charleston, South Carolina, or Michael Pyatok's James Lee Court in Oakland, California, or William Rawn's Charlestown Navy Yard Rowhouses in Boston, and this is heartening.
But mostly I am frustrated. The vast majority of affordable housing for low-income people is a mere shell of what it could be. With very few exceptions, it is built only marginally well enough to be an improvement over what it replaced, or just well enough to meet the requirements imposed by local or other standards, most of which are too low.
Critics of investing in design quality argue that the greater good is measured in how many people are minimally housed. They suggest that minimum standards result in the achievement of the primary goal, which is to adequately house everyone, and that the most effective way to achieve this goal is to reduce the costs of the housing being developed.
I believe this approach, when measured in the long run, creates the kind of housing that is as much a blight upon the city as the deteriorated conditions it is intended to improve or replace. So bad have many of our designs of low-income housing been in the post-war period that we celebrate newness, having convinced ourselves that newness is the equivalent of value and beauty. This kind of comparison, between the old and already decrepit and the new and soon to be decrepit, creates the false impression that the housing being built today will always look like it does at ribbon cutting time. Further, it serves to convince everyone involved in a particular project that the money was well spent, that the effort was worth it, and that the project will intrinsically lead to the neighborhood's rejuvenation.
But for affordable housing to have any chance of stimulating rejuvenation or being more of a long-term positive influence on a neighborhood than a negative one, it must be well-designed. Being affordable but ugly isn't good enough. Being decent but cheap isn't good enough. Affordable housing should win the comparison with what it replaced not only on opening day, but decades later. It should improve the value of adjacent property immediately and over time.
When we build houses that satisfy only minimum aesthetic or durability standards, as most CDCs do, we undermine neighborhood strength. By designing streets without sufficient pedestrian orientation, we undermine the capacity of people to live as neighbors and the ability of both the young and elderly to participate in society. By planning communities segregated by single use, whether in the outlying suburbs or the inner city, we facilitate an area's tendency to cannibalize itself.
The operative goal in community development is not the production of affordable housing, however important that is. The operative goal in community development is community development. And this depends largely on how well or poorly designed the housing is, how well or poorly designed the street is, and how well or poorly planned all the pieces of a neighborhood are. Everyone involved with neighborhood rebuilding efforts should understand the importance and complexity and value of design. Well designed neighborhoods add value to the surrounding community. They are affordable over time. They are attractive. They last.
It Must Be Possible to Build Quality Affordable Housing
One of the great absences in low-income communities – beyond the lack of jobs, prosperity, and even hope – is the scarcity of beauty. Most of us have seen so much ugly, decrepit low-income housing that we can't imagine doing anything differently.
But as Amory Lovins, Director of the Rocky Mountain Institute, likes to point out, "if it exists, it must be possible." If it were not possible to achieve long-term durability, high aesthetic quality, and affordability, we would find no examples that suggest otherwise. Admittedly, it is not being done everywhere or often. But it is being done. And when you discover what is possible, it seems inconceivable that it could be any other way.
With that appraisal, I would like to highlight a few of the outstanding affordable housing projects developed over the past decade. By investigating how a few community developers manage to create affordable housing that is better than the surrounding market rate housing, we can discern for the community development movement a new doctrine that seeks to raise the standards from minimum quality to sustainability and even beauty. What we build now, if for no other reason than that we use scarce public subsidy to do it, should be valuable to our communities fifty, sixty, seventy years down the road.
Models of Excellence
In cases where design excellence has been achieved, the developer's attitude was paramount. While most of these projects were built for people with incomes of 50 to 80 percent of median, the developers strove to treat low-income people like everyone else.
In San Francisco, the small nonprofit Mission Housing Development Corporation worked with acclaimed urbanist architect Daniel Solomon to develop Del Carlo Court. With Del Carlo Court, Executive Director Daniel Hernandez and Deputy Director Ann Ostrander saw the project as the building of a neighborhood, of which affordable housing was only one component. Therefore, Ostrander reasoned, "Why would we build anything that didn't make the neighborhood, as a whole, better and stronger? You can't tell me that you can make a neighborhood better and stronger by adding something to it that is unattractive and won't last."
What makes Del Carlo Court well designed? Its design acknowledges that the most important features it had to reckon with were the street and the competing interests of cars and people. Where it would have been easy to set the building back from the street to accommodate parking requirements, Solomon shaped the building around an interior court to be used for parking. The effect is a contiguous urban wall along the street and private interior space that does not have to compete with the congestion of downtown San Francisco.
In order to appropriately dignify and honor the neighborhood, Ostrander made sure that high quality materials went on the outside of the property. When this necessitated a reduced budget on interiors, Ostrander went to junk shops to locate old French doors, which she and others would repaint and give to the architect. This effort may seem a mere gesture, but it signifies the lengths to which the developer went to make the building beautiful and valuable to both the residents and their neighbors.
Perhaps two of the finest examples of affordable housing in the last 50 years are in Boston. Both illustrate a public sector agency unwilling to compromise on quality.
The first, Langham Court, designed by Joan Goody, of Goody, Clancy & Associates, contains 84 units of family housing. But the Boston Redevelopment Authority envisioned the project not as 84 units of affordable housing but as a catalyst for neighborhood improvement. In Boston's South End, 84 more units of affordable housing that were ugly or cheap simply would not have achieved this goal.
The design of Langham Court posed several difficulties. The site fronted two avenues, Shawmut and Worcester, each with different architectural characteristics. In my view, a lesser architect working with a CDC whose goal was housing instead of neighborhood improvement would have settled for two buildings, and any attention they may have paid to architectural rhythm would have been manifest in the construction of two competing, not mutually reinforcing, approaches.
Joan Goody combined rowhouses along Worcester and West Springfield with high density apartments along Shawmut, linking them with a breathtaking interior courtyard connected by arches adjacent to the rowhouses. The elegance is unmistakable. Walking north along Worcester, the townhouses are a continuation of the existing form, which connect seamlessly to the higher density segment along Shawmut. It is impossible to recognize Langham Court as affordable housing for low-income people, and the structures reflect the redevelopment agency's goal of using an affordable housing project to stimulate neighborhood improvement.
Also in Boston, the Charlestown Navy Yard Rowhouses are, in my opinion, the best example of the design excellence in affordable housing in the United States, worthy of serious discussion at a national level. Built in an old navy yard, this mixed-income project provides both market rate units and housing affordable to low-income people. The project succeeds architecturally and, more importantly, in the way it balances competing private and public interests to the substantial benefit of both.
"For the sake of the city, affordable housing must be seen as a continuous part of the urban fabric," UC Berkeley Professor of Architecture Sam Davis says. "For the sake of the residents, too, it must be part of something else, not a separate enclave that can be identified, isolated, or stigmatized." Rawn's rowhouses at the navy yard meet this high standard. According to Davis, they do not just integrate the new housing into the community, but also make the street, the traditional urban space, better, safer, and more vital.
The strongest thread I see running through all well-designed affordable projects is not greater than usual financial resources but the attitude of the developer toward the way available resources are used. In every case above, the developers decided long before land was acquired or financing was discussed that success would be measured not in the number of units created but in the quality of as many units as it was possible to create. Funding parameters normally make it difficult to approach affordable housing with this intention, as more units create increased rent streams which can finance more units which are more valuable to community development administrators, city councils, and everyone involved.
Several big-city mayors, however, have found high quality affordable housing to be a worthy public investment. Milwaukee Mayor John Norquist steadily beats the drums for design excellence in housing and municipal endeavors. Seattle Mayor Norman Rice and the Planning Department have created long-term sustainable urban design concepts that will make it easier to create affordable housing throughout the metropolitan region. In Charleston, South Carolina, Mayor Joe Rielly has been a tireless advocate of neighborhood strengthening and works hand-in-hand with the housing authority to ensure public housing is as much a part of the community fabric, spiritually and physically, as possible.
The Common Good
High quality affordable housing projects pay homage to the concept I call "pride of adjacency." The developers of the Charlestown Navy Yard Rowhouses tried to treat the needs of the residents and the needs of the neighborhood as shared rather than competing concerns. Rawn saw the exterior as the most important part of the building. The redevelopment agency did the same, kicking in almost a million dollars for a copper roof.
Now my counterpart in some co-teaching efforts, Bob Santucci, was horrified when he learned that almost a million dollars went to a roof. "Do you know how many more units of housing could have been created for that money? Do you know how ridiculous it is to spend that kind of money on something that is, for all intents and purposes, a decoration?"
To that I reply that the roof will last two hundred years, which makes it affordable over time. The roof is an immediate physical landmark, establishing the project as a centerpiece of the area. Using high quality materials makes it more likely that future developers of adjoining properties will do the same to achieve the same values. And last, with a fixed budget, the developers had to make choices about how to best spend available money. In deciding to use high quality materials on the exterior, thus reducing the interior budget, the developers recognized that low-income residents would be more likely to afford such amenities as dishwashers and fancier cabinetry in the future than such capital expenditures as a million dollar copper roof.
The Charlestown Navy Yard Rowhouses stand as a legacy to the belief that the public domain – the space from which the copper roof can be seen and admired – is, as James Kunstler said in his Geography of Nowhere, the manifestation of the common good. This legacy is repeated in projects developed by a few notable community groups working with a handful of talented architects. There are not so few such architects, however, that these results can't occur more often.
It begins with the kind of attitude that Mission Housing Development Corporation had when they developed Del Carlo Court. It most often occurs in cities where mayors like John Norquist and Joe Rielly believe in design excellence. It is more possible with architects like Michael Pyatok in Oakland and Philip Johnson in Chicago and Emanuel Kelley in Philadelphia. And design excellence in affordable housing is achieved when the expensive copper roof is considered an essential ingredient to community building because it honors the neighborhood before anything else.
Though the design process is complex, though not all architects are as talented as those I have highlighted, I believe that Amory Lovins was right to remind us that "if it exists, it must be possible."