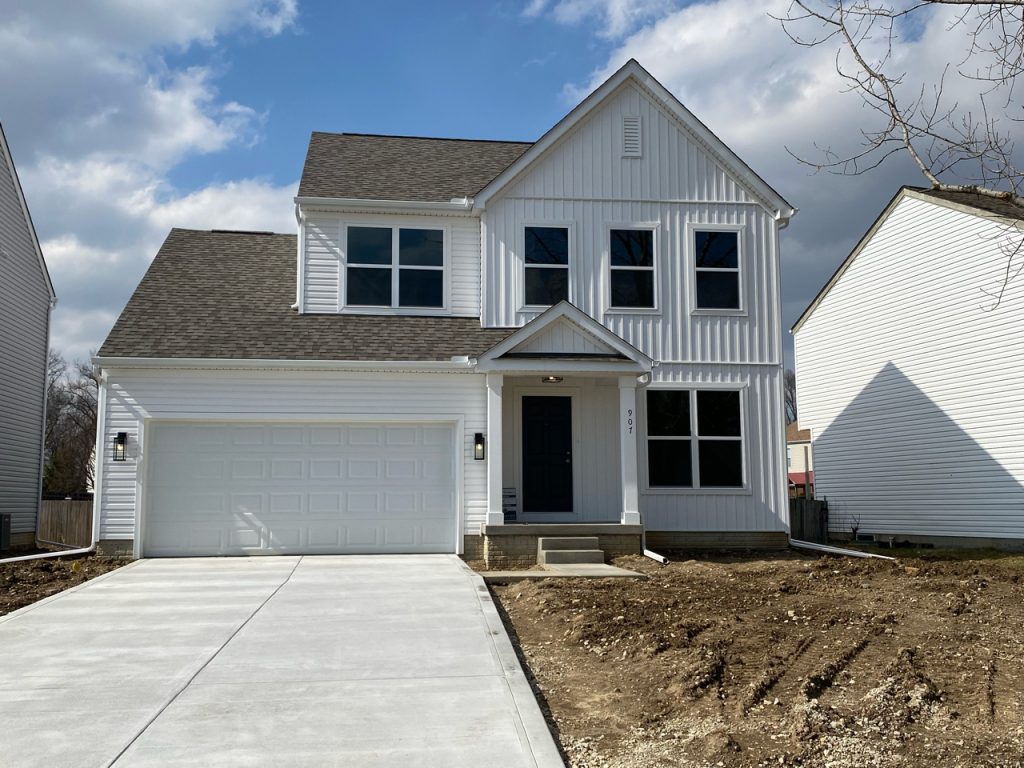 Miguel Lopez Perez rented his first apartment as an undergraduate student in Columbus, Ohio, in 2004. He remembers his first rental—a two-bedroom that cost around $600 monthly. When he decided to pursue a Ph.D. program in biochemistry at Ohio State University, his last rental was a two-bedroom duplex that cost $1,200 monthly in 2020. Homeownership was something he had never experienced. His parents had always rented when they moved to the U.S., whether they lived in California or in Ohio. "We get stipends as students, but it's not anywhere near the kind of money that would allow me to think seriously about being a homeowner," he says.
But his life as a tenant changed in 2020. While casually browsing Zillow, he came across a newly constructed single-family home listed as an "income-restricted" property at $185,000. The label caught his eye because it was such a new house. "I thought there had to be an additional catch," Lopez says.
After a little research, he found there wasn't a gimmick. The house was built by the Central Ohio Community Land Trust (COCLT), a 501(c)(3) organization created in 2018 as a subsidiary of the Central Ohio Community Improvement Corporation (COCIC), Franklin County's land bank formed in 2012. The home he was looking at was part of a plan by local authorities to integrate homeownership into its affordable housing solutions in Franklin County, of which Columbus is the county seat.
While it's very common for local governments to start a land bank, and smaller grassroots groups to form land trusts, the all-in-one structure is rare. The Center for Community Progress highlights this subsidiary model in its report on land bank and land trust partnerships.
In the traditional real estate market, homebuyers are expected to make a down payment, often 20 percent of the purchase price, and be approved for a mortgage. The median price of a home in Columbus, Ohio, is about $250,000, meaning a downpayment is around $50,000. In a typical mortgage, a homeowner repays their home loan to the bank to own the property in its entirety. In a typical equity model, if a homeowner is halfway into their 30-year mortgage, they own 50 percent of their property. By the end of their mortgage, the home is theirs.
But COCLT and COCIC properties are built on city- and county-owned land and aim to provide homeownership to more Franklin County residents. This presents an opportunity for low-income residents who may have otherwise been locked out of homeownership entirely.
It starts after COCLT builds a home. The trust provides a lower purchase price to keep homes more affordable. Prospective homeowners who purchase homes through the entities enter into a shared-equity agreement instead, with the homeowner agreeing to a share of 25 percent of the increase in appraised fair market value of the home at the time of selling. Through this agreement, COCLT remains the owner of the land and the dwelling is owned by the homebuyer. The dwelling remains affordable at the time of resale in order to continue COCLT's model, and the homeowner has generated some wealth that would have otherwise not been possible if they remained a chronic renter.
At the time Lopez was interested in the home, COCLT was still in its early years and buying one of the nonprofit's properties required motivation and organization. Now, COCLT provides more communication and guidance to potential homebuyers.
Lopez says he had no trouble keeping up, however. He was instructed to take several classes, on topics including homeownership education and financial planning. "I called them up, went through their checklist of financial classes and everything," he says. "It was a very thorough and thoughtful process."
At the end of his homeownership education, he ponied up $1,800 as a downpayment, the land bank approved a loan, and he closed on the home in May 2020.
Land banks and trusts are not a new approach to the affordable housing crisis nor to community control; they have been around for almost half a century. The powers that land banks have are generally given by the state legislature, and they acquire most of their properties through foreclosure. They are public organizations and "specialize in the conversion of vacant, abandoned and foreclosed properties into productive use." Usually, land banks work on a city-sized scale. Land banks were formed in great numbers after the 2008 housing bubble burst.
COCIC was created as a response to the 2008 housing crisis. "But frankly, blight and abandoned properties were already an existing problem," says COCIC President and CEO Curtiss Williams. "The housing market just exacerbated the problems."
Franklin County was severely impacted by the housing crash. According to a 2017 study by the Affordable Housing Alliance of Central Ohio, "From 2000 to 2014, the percent of the population living in poverty increased in every Franklin County city," save for a few areas.
The study also found that "between 2000 and 2013, the suburban areas of the 10-county Columbus metro area had the greatest growth in suburban poverty—up 113.6 percent—among all Ohio major metro areas," and that a significant number of households in the county spent more than 50 percent of their income on rent or mortgage payments. According to the U.S. Department of Housing and Urban Development (HUD), affordable housing is defined as when a renter or homeowner spends a maximum of 30 percent of their income on their housing.
"The city and county needed a tool," says Williams. "And it needed to be sustainable." Unlike a conventional land bank, COCIC has the regulatory power of both the county and the city, expanding its purchasing power beyond Columbus' city limits. Today it has enough capital to not be limited to buying foreclosed properties, which is the typical way a land bank accumulates inventory. COCIC also sometimes buys lots on the speculative market, in order to expand its reach and footprint into convenient neighborhoods (a lot wedged between two foreclosed properties, for example).
The COCLT was added in 2018, as there was a clear need to develop acquired land and diversify affordable housing options beyond rentals, apartments, and semi-permanent housing. With COCLT as a subsidiary, COCIC provides the land, and COCLT handles the development and other market-facing business. Hope Paxson, vice president of programs and housing at COCIC, describes the corporation as "both-and": land bank and purchaser.
Land trusts are different from land banks. They are not typically involved with the acquisition of property, but rather with ownership and/or stewardship and development. They're also frequently private entities, like nonprofits, and are under much more pressure to work as efficiently as possible because trusts exist to benefit the cohesive community for which they were originally established.
Many Native American tribes around the U.S., for example, have established land trusts as a way to preserve ancestral lands and to continue cultural practices. It's a common type of "community control" that is in the hands of very specific stakeholders.
The COCIC and COCLT model, however, doesn't align with the quintessential idea of community control. Like most advisory boards, they have a spot for current COCLT homeowners. In fact, Lopez just finished his tenure as the first advisory board member representing COCLT homeowners. That's where the similarities end. The majority of their advisory board members are from the world of private developers or other affordable housing nonprofits.
For Williams, this kind of advisory board also means they hear from perspectives that are diverse and represent the actualities of the real estate market, lived experienced by homeowners, and what solutions are already on deck. "Typically, a community land trust starts from a grassroots effort. We weren't created to do that," says Williams. "But that means we go beyond just one neighborhood."
And affordable homeownership? It's the kind of bold solution that is hard to implement without everyone—"from cities to more rural areas"—buying in, he adds.
Paxson says that COCIC has fine-tuned its homeownership program since its launch. Outreach has diversified beyond Zillow listings. They now do most of their outreach through their nonprofit partners, who advertise the homeownership program so it's not just reaching people who are browsing Zillow's for-sale listings. By disseminating the information through their partners, even low-income renters who have never thought of owning a home have a chance to become a homeowner.
The process of owning a COCLT home starts with an orientation class, where interested buyers fill out a questionnaire. From that questionnaire, it is determined which future properties prospective buyers are interested in and they enter a queue for those properties. Their names are entered into a lottery system run by a third party, and if their name is drawn, they go through income verification (eligibility is currently capped at a household income of 120 percent or below the HUD area median income).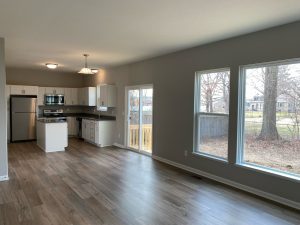 After eligibility is approved, COCLT staff works closely with them, explaining all the ins and outs of homeownership. They provide financial planning, access to realtors, and help them with pre-approval. It's a lot of handholding, but it's necessary for people who have rented for most of their lives or have never heard of shared equity, Paxson explains. "We make the process as transparent as possible from the very beginning," she says.
The lottery system didn't exist when Lopez was in the market. But it became necessary after the program gained a lot of popularity. Demand outpaced the supply of COCLT homes. But still, according to a 10-year COCIC impact report, the COCIC and COCLT had "produced 200 units for low- and moderate-income homeowners" by the end of 2022.    
As for Lopez, his mortgage payment is $700. Combined with his maintenance costs, his monthly payments average out to about $1,200, roughly what he was paying in rent before becoming a homeowner. "I didn't see myself becoming a homeowner so soon," he says. "I think if you can buy a house here, it's a great opportunity not just to own property, but to have at least a foot in the door to build generational wealth for yourself and family."
Editor's Note: An earlier version of this article stated incorrectly that the "all-in-one" structure of the land bank is unique.