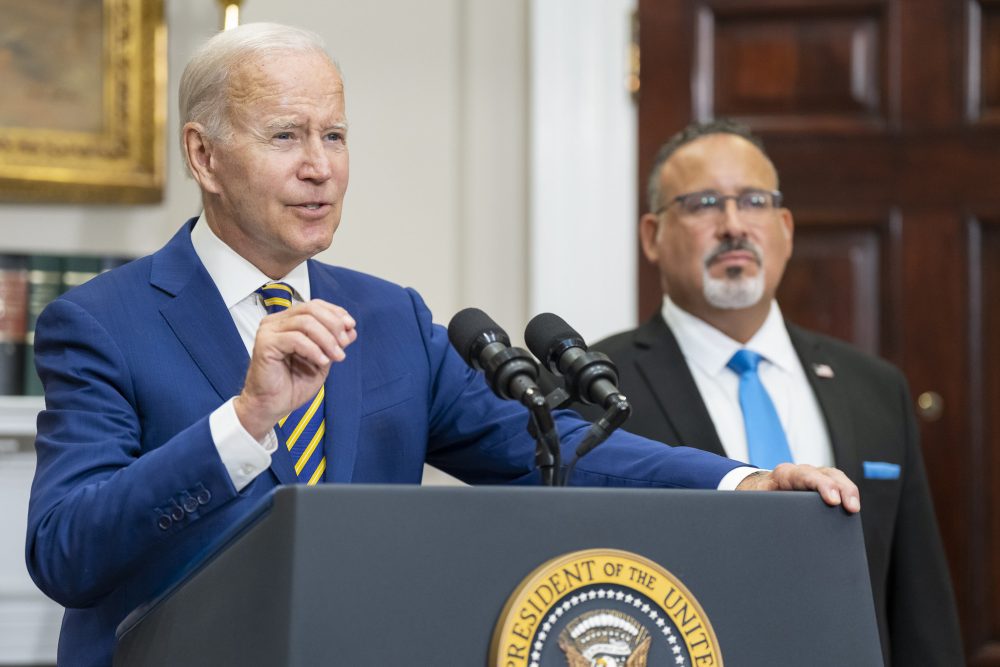 Progressive advocacy groups are calling on the Biden administration to impose rent control on tens of millions of homes in response to soaring rent increases.
With rents up 5.8 percent nationally compared to a year ago, and some measures showing even bigger hikes, the president must use his authority over the Federal Housing Finance Administration and other agencies to impose rent regulations on borrowers of federally backed mortgages, the coalition says.
"The biggest bill for every American household is their housing bill, whether it's their mortgage or their rent. You can cut back a little bit on gas or on certain things at the grocery store; you can't cut back on the amount that you pay for rent. The alternative is homelessness," says Tara Raghuveer, Homes Guarantee campaign director at People's Action.
One private-sector report based on new leases found that rents actually rose 12.3 percent from July 2021 to July 2022. The average monthly asking rent, or the amount listed by landlords seeking tenants, passed $2,000 for the first time in May, and eviction filing rates are reaching pre-pandemic averages, according to a letter the National Low Income Housing Coalition and National Housing Law Project sent on August 16 to the heads of the FHFA, HUD, Treasury, and other agencies.
Contributing factors include real estate investors buying low-cost units and jacking up prices, as well as growing demand, limited supply, and broader inflation, NLIHC president Diane Yentel and NHLP executive director Shamus Roller wrote. Federal Reserve interest rate hikes meant to tame inflation have made mortgages more expensive and discouraged home-buying, pushing more people into the rental market and further pressuring prices, advocates say.
Yentel and Roller note that while Biden signed the Inflation Reduction Act in August, the new law "does nothing to address skyrocketing rents and dwindling housing supply."
"Without federal action, housing will be a persistent driver of inflation and rising rents will hit the lowest income Americans the hardest. For this reason, it is even more important for the administration to take immediate action to keep families stably housed. A failure to do so would exacerbate homelessness, poverty, and racial inequality," they wrote.
The Homes Guarantee coalition of more than 220 tenant unions, community organizations, and legal advocates argues there are precedents supporting the legality of federal rent regulation. In March 2020 the CARES Act imposed a four-month eviction moratorium for qualifying renters in homes participating in federal assistance programs or whose mortgages had federally backed financing.
"There's clear and recent precedent for FHFA to take that kind of action," Raghuveer says. "The federal government is leaving a lot of power on the table, if they don't take seriously their role as regulators of these massive streams of public financing and public subsidy that's going to the private market. That's leverage that the federal government has over the housing market and they're currently not using it."
The coalition wants Biden to declare a state of emergency on housing and issue an executive order protecting tenants in both federally assisted housing and private rental housing with federally backed mortgages against unreasonable rent hikes, wrongful evictions, denial of lease renewals, and retaliation for organizing. Raghuveer says it would apply to 43.6 million rental units across the country.
The president should also convene an interagency task force to work on longer-term efforts to regulate rents and secure tenants rights for all renters, such as legal representation in eviction proceedings, and hold a White House summit on renter protections, they say.
In addition to having the government-sponsored enterprises Fannie Mae and Freddie Mac impose new regulations, the groups want the Federal Trade Commission to sue landlords who impose excessive rent increases, and HUD to require jurisdictions to investigate rapidly rising rents and adopt rent controls as part of their duty to affirmatively further fair housing.
The advocates say the Securities and Exchange Commission should require publicly-owned companies that own or manage rentals to disclose rent increases, and should investigate companies for engaging in "manipulative and deceptive practices" in connection with rent-backed securities. They are asking the Treasury to set rent regulations for Emergency Rental Assistance Program funds and act to discourage lease non-renewals of LIHTC-funded properties.
The coalition also wants to enlist the Consumer Financial Protection Bureau in investigating corporate landlords for using unfair tenant screening and debt collection practices to discriminate against tenants or collect pandemic rental arrears.
Raghuveer argues that the unprecedented housing crisis has made such executive actions politically feasible.
"Up until basically exactly right now, rent control and rent regulation were basically a third-rail political issue, completely untouchable by anyone really at any level of government, much less the federal government. Now, based on how dire the inflation crisis is, and how painfully it's hitting American households' pocketbooks, people's hunger for the federal government and specifically the president to act is shifting," she says.
Fifty-one percent of likely voters believe Biden should use his executive authority to address housing costs, according to a recent Data for Progress survey conducted for the Homes Guarantee campaign. That includes 76 percent of Democrats, 46 percent of independents and 30 percent of Republicans. Asked who they blame for rising rent, those surveyed largely named inflation (43 percent), followed by landlords (22 percent), and Biden (19 percent). The survey did not ask directly about rent control.
A Homes Guarantee delegation visited Washington recently to lobby for Biden to take action. Raghuveer said the coalition has not heard any direct response, possibly because the administration was intensely focused on moving the Inflation Reduction Act through Congress.
Additional reporting by Shelby R. King.