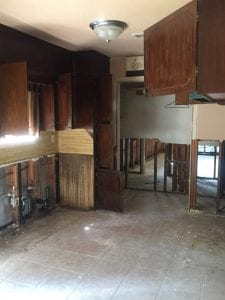 The help our country offers survivors of natural disaster fosters inequality. History and current experience have shown that FEMA aid, subsidized insurance, local long-term rebuilding programs, and even charitable giving don't go to people who need it most.

Regardless of an applicant's socioeconomic status, the process of cobbling together materials for an application for disaster aid is frustrating. The difference is that those with time and capacity to gather documentation and work through the maze of FEMA applications and appeals are well on their way to getting a few thousand dollars in immediate help from insurance or FEMA, and those for whom finding documents or completing forms is more difficult may wait far longer.
Jane Doe* experienced a string of misfortune in 2017 when Hurricane Harvey left her with a storm-damaged home, a flooded-out car, and no job.
Jane and her 3-year-old son, Corey*, helplessly watched the floodwaters rise in their apartment complex for three days. When the rain finally stopped, and the water began to recede, she and her neighbors worked tirelessly to sweep water out of their first-floor apartments. Because most roads and major thoroughfares were flooded throughout Houston, help from family, friends, volunteers, and first responders was unavailable. To absorb the water-soaked carpet, they used bath towels, sheets, and any other cloth they could find. Jane and her neighbors had to act as their own first responders. 
Overwhelmed with the saturated mess in her apartment, Jane found relief when she noticed the water in her parking lot had finally receded. She could finally drive to the store for food and supplies to clean the damage to her home, but the car had succumbed to the flood and would never be driven again.
Jane's stress level rose beyond belief as she dealt with the realities of disaster recovery. As a tenant, she was heavily dependent on her landlord to address the damages in her unit. Although Jane applied for FEMA assistance and did what she could to clean up, she was denied assistance. As she thought about her next course of action, Corey's asthma attacks increased as a result of his exposure to the rapidly increasing mold that began to take over the apartment.  The frequent trips to the emergency room led Jane to make a tough decision to temporarily allow Corey to live with her parents while she fought with her landlord to get proper repairs done.
With her son now chronically ill, stacking medical bills, and her only means of transportation gone, Jane had to figure out how she would get to work. Within one week of Harvey's destruction, she was fired from her job. Over 18 months later, the perpetual waiting game has become Jane's new routine as she continues to seek assistance for the damage caused by Hurricane Harvey.
People who were already living with financial instability, despite working multiple jobs, get flooded out of their homes and are told to wait. And wait. And wait.
A study by Rice University and the University of Pittsburgh published last year found that after natural disasters, the more FEMA aid a county receives the more wealth inequality increases. Those with greater wealth and property are more likely to get a greater amount of FEMA aid than those with little wealth and property. The study's authors write: "These findings are disconcerting because such damages are widespread; they are projected to increase dramatically over coming years; and, FEMA aid–as currently administered–appears to exacerbate the problem."
And FEMA aid isn't the only form of assistance that perpetuates inequality. Locally run long-term rebuilding programs and charity aid can also contribute to a distortion in the recovery of communities. The obstacles in the path of vulnerable people as they rebuild and search for stability after a disaster accumulate. The result is two separate and unequal recoveries: one that lifts up those with resources they can leverage to bounce back quickly, and the one that cements poverty and vulnerability for those with very modest means.
How This Works on the Ground
The Federal Emergency Management Agency's application and assessment process is often the first step survivors take in their search for help. Flooded cars, soaked homes, damaged belongings—those are the things FEMA says it'll help with. Survivors must present documentation, such as titles to cars and homes, and show up for assessments. FEMA often asks whether a household has used a dehumidifier, implying survivors have the financial means to remove moisture from the environment. If not, an application might be kicked back. If a home is older and shows some wear and tear, FEMA might classify the damage as "pre-storm damage" and offer an insufficient amount of assistance or deny a request altogether. Even if families do break through and get help from FEMA, the way the agency values loss favors wealthy property owners. As an NPR investigation reported earlier this month, "Federal aid isn't necessarily allocated to those who need it most; it's allocated according to cost-benefit calculations meant to minimize taxpayer risk."
Disaster recovery is not equal and the people most harmed are the most vulnerable.
FEMA denial rates are high.  When families are denied and feel the denial is unjustified, they can appeal the decision, but this adds to the wait time for help that is often needed immediately. (FEMA has up to 90 days to respond to an appeal.) Those with a safety net or enough financial means to cover immediate costs will be well on their way to recovery while those without may be stuck. The way this first step goes in the search of aid can be an indicator of how the full process of recovery will go.
If FEMA assistance is unsuccessful, the next attempt to seek help is usually from nonprofit social service providers. Days after Hurricane Harvey struck and first responders completed search and rescue missions, foundations, celebrities, and religious organizations rallied the community to raise money. Harvey relief groups raised a total of nearly $1 billion. The funds were distributed to various nonprofits and the bulk of it went toward home repairs and rebuilding. To navigate this tangled process, survivors must be very savvy. They must know where to go, which means having computer access to search for organizations offering assistance, choosing the appropriate one, and then completing an online application. They also must know how to be persuasive in telling their story, and how to diligently pursue the help they need. Those who don't have time for the maze are often people with inflexible jobs or health issues, or families with young children. Disproportionately, these are people of color. And if they don't have time to figure out the maze, they're unlikely to get the help they need. Those millions of dollars will be spent elsewhere and will likely reward those with the most capacity to navigate this help, not those who are most in need.
Systemic Inequality in Disaster Aid and Recovery
Out of individual instances of inequality in disaster aid, a pattern emerges. Disaster recovery is not equal and the people most harmed are the most vulnerable. But this pattern has greater implications for systems that are intended to mitigate disasters and protect residents from danger.
For example, local officials often select flood mitigation projects based on concentrations of approved FEMA assistance. Given the structural inequality of how FEMA assistance is rewarded, it means areas of need with scarce capacity to recover are overlooked for mitigation projects. Even before major storms hit Houston, essentially two systems of drainage had been established in the city: the advanced underground system that serves primarily white, affluent areas; and open ditches that serve primarily neighborhoods of color, which were put in place when those communities were redlined. A study conducted by the City of Houston after Hurricane Ike in 2008 found that nearly half of those open ditches don't perform well even in modest rainfall.
The more FEMA aid a county receives the more wealth inequality increases.
Another example is the locally run buyout programs. After disasters, the federal government allots millions of dollars to local jurisdictions to buy out homes and property that repeatedly flood. Because of the proximity of low-income communities of color to environmental hazards, historic disinvestment and segregation, the home values in these neighborhoods are much less than comparable homes in areas that are less flood prone. The buyouts offered to these homeowners are often not enough to help them afford new homes away from flood zones.   Meanwhile, the homes of white families are often worth more and a buyout can help these families move to decent homes in nice neighborhoods.
We can find structural racism and inequality in the patterns that unfold in the implementation of policies such as these. The act of creating and perpetuating structural inequality might not be intentional, but these are the effects. As long as disaster recovery does not intentionally address the plight of people of color, those neglected during the last disaster and the one before, then we face a greater distortion in how communities recover.
What Can be Done?
There are big-picture, aspirational goals toward a more just society that can get at this pattern of inequality made worse by natural disasters. Reducing income inequality by encouraging a living wage and more widespread housing assistance for those with modest means is a start. This work can get underway by working collaboratively with local partners to ensure the long road to recovery is more just, resilient, and equitable.
However, there are ways to address inequality directly in the work toward an equitable and just recovery. We can ensure that our local communities pre-plan for disasters and tailor rebuilding and recovery programs to those who need them most. In Texas, a pre-disaster pilot program,  which began shortly after Hurricane Rita in 2005, demonstrated that a temporary-to-permanent rehousing strategy could be provided to displaced disaster survivors. Developing pre-disaster recovery plans like RAPIDO initiates steps to remove barriers that contribute to the long timeline of recovery. The program re-houses owner-occupied households within 120 day of the family's application. 
Incorporating equity criteria in disaster-related project selection processes could also allow for equity analyses of programs and shorten the waiting time for people who need help.
We can also enforce Title VI of the 1964 Civil Rights Act and ensure that no federal funds are spent in ways that perpetuate segregation. We can also enforce fair housing law that protects historically disenfranchised and neglected people—including people of color and people with disabilities—from being discriminated against. If the Fair Housing Act was enforced, disaster survivors would have:
The right to choose: Homeowners and renters must be informed of all housing opportunities and be able to relocate to communities that best suit the needs of their families. They must also have the right to stay or return to their homes, once adequate storm protection and other essential public infrastructure has been repaired or provided.
The right to have a say: They must be able to weigh in—and be listened to—on how their homes and neighborhoods are rebuilt. Survivors must play an integral role in designing and implementing disaster recovery plans and programs.
The right to equal treatment: They must be guaranteed just and fair treatment by all levels of government in the recovery process. Regardless of the race, ethnicity, economic status, or disability of the residents, all neighborhoods must be provided equal levels of flood protection and equal access to essential public infrastructure. Our government has created legal structures that promote equal protection of all people and the burden is on elected officials, program administrators, and decision makers to ensure it is upheld. Disaster recovery should be no exception to these structures.
Who are they really for, all of these safety nets deployed post-wildfire, hurricane, and tornadoes? We must work collaboratively with local, state, and national partners to ensure the long road to recovery is more just, resilient, and equitable. Natural disasters will happen, but with proper preparation, communities can better weather the storms. If disaster recovery works for some, we can make it work for all, even the most vulnerable.
*Names have been changed to protect the family's privacy.