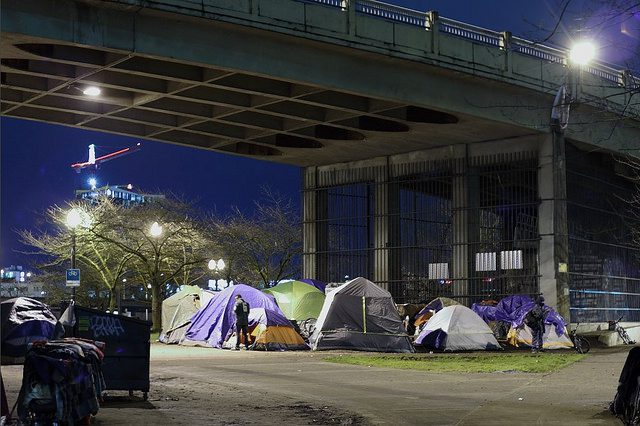 Cleveland Mayor Frank Johnson's plan to address violence and crime, specifically within the city's youth population, looks at the issue as a public health concern. His goal is to frame the work of staff at community recreation centers and city employees who deal with youth populations as needing to address the trauma youth may experience growing up in high-poverty neighborhoods plagued by violence. 
City officials in Philadelphia are piloting a program that seeks to permanently close a few of its largest homeless encampments using a systematic process of removing residents and placing them in housing and/or treatment facilities. The model is similar to that of other cities that struggle to manage ballooning numbers of homeless people, many of whom are also struggling with opioid addiction. The process involves outreach workers meeting with residents over a period of time—while the camp is still intact—to assess their needs, and hopefully move them out and into supportive programs.
Affordable Housing Solutions? Municipalities across the U.S. are coming up with a bevy of ideas to create more affordable housing in their communities. Last week we told you about Chattanooga's plan to offer affordable housing in former city buildings. This week, we hear that Alexandria, Virginia, will increase the tax on restaurant meals from 4 to 5 percent to raise millions for the city's affordable housing trust fund. Restaurant owners were not too happy with the plan. But come on, it's only a 1 percentage point increase. We don't think diners will notice.
Baltimore Mayor Catherine Pugh announced earlier this week that she would create an investment fund using revenue from the leasing of city-owned parking lots—not their sale, which was a plan of her predecessor. Pugh plans for the fund to be backed by private business, and for its investments to be focused on revitalization of the city's historically disinvested neighborhoods.
Shelterforce wrote about Under Armour CEO Kevin Plank's 2016 purchase of Port Covington, a large chunk of land in Baltimore that the company has slated for office and mixed-use development. The piece, written by Daniel Kravetz, focused on the deal and the work the city (and advocates) did to make it happen, including giving the company a $660 million tax increment funding deal. Two years on, Plank is being sued by two Under Armour board members for what they claim was his personal financial enrichment from the deal, as his private real estate development company, Sagamore Development Co., purchased the land in question then sold it at a profit to Under Armour. 
A new report out of San Diego shows that the city's transportation system has more than a dozen properties that could be converted into thousands of residential units. Officials didn't dispute the report and said they've been in discussion with developers about some of those sites for some time now. "We're totally supportive of maximizing the use of our property. If we could get 8,000 new units that would be fantastic," said Rob Schupp, spokesman for the San Diego Metropolitan Transit System, to The San Diego Union-Tribute.
What housing crisis? Despite everything we've seen, read, and heard, there really isn't a housing affordability crisis in the U.S. Wait, what? Even though affordability is indeed decreasing, it hasn't risen to the level of "crisis" yet, according to exclusive data provided to Housing Wire from First American Financial Corporation, a title insurance and settlement service company. "While home prices have been increasing, so have incomes. While most states have once again reached their peak 2007 levels, incomes have far surpassed those of last decade." So we have a "problem," but not a "crisis." Semantics.
In the last 11 years, more than 1 million residents left California for other states where housing costs were lower, according to the Los Angeles Times. "From 2006 to 2016, the state lost a net 516,800 households earning less than $50,000. For households earning $50,000 or more, migration actually turned positive—a gain of 62,400."