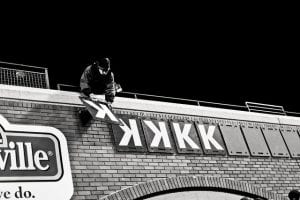 "This is about the moral center. This is about our humanity."
—The Rev. William J. Barber II
There have been a number of stories in the papers over the last two months that, from my perspective, are connected. Unfortunately, their common denominator is the demise of affordable housing caused by the malignant neglect of government at all levels.
This past June, I was inspired by a New York Times piece by Laurie Goodstein, "Religious Liberals Sat Out of Politics for 40 Years. Now They Want in the Game."  I have previously written about the visionary and prophetic Barber, who keynoted the annual conference of the National Community Reinvestment Conference twice, and has become a harbinger for nationalizing state movements.
I respectfully suggest that there is an imperative to also nationally coordinate movements focused on city planning departments.
Here in my city of Chicago, the last weeks of July offered three strikes against communities by development without moral centers. Strike one was a fastball thrown in the community where I work, Uptown—still Chicago's most economically and racially diverse community. One of my favorite columnists, Mark Brown, captured the play-by-play in his Chicago Sun-Times article:
"One hundred and 47 men reside at the Wilson Men's Hotel—for decades one of the lowest-cost housing options for Chicago's down-and-out . . . . On Tuesday, the Uptown building was sold to a developer who plans to remove the tenants and remodel the decrepit flophouse to appeal to a more upscale clientele . . . remodeling the property into 75 to 82 studio apartments, with 20 percent of them set aside as affordable—for individuals with annual incomes of up to about $33,000. That's just 16 spots in a place that currently shelters 10 times that many on a cold winter's night."
Chicago's Single Room Occupancy [SROs] buildings are now easily remodeled into trendy units for single people, who because of student debt and inadequate job opportunities are not able themselves to pursue affordable family homeownership.
Strike two was a splitter catching the "insider" corner, where I used to work in Chicago's North Branch Industrial Corridor. This Chicago Sun-Times headline from July 26 captures the real estate frenzy ready to descend: "Council unleashes North Side land rush despite infrastructure concerns."
The final "score" was 46-2 to open up 760 acres of previously protected (for 30 years) North Side industrial land for residential and commercial use, despite "lingering concern about a shortage of park space and infrastructure to accommodate an avalanche of new residents that nobody at City Hall is prepared to quantify." Alderman Brian Hopkins of the 2nd Ward said he's excited about the opportunity to preside over development "on a scale rarely seen, probably since the Great Chicago Fire."
The city's public stance is that there will be three kinds of developer fees: for parks and infrastructure improvements, industrial development elsewhere in the city, and development of retail corridors in impoverished South and West Side communities. All those are commendable, but nowhere has anyone said that affordable housing will be a mandate for developers.
Strike three is an outside curveball in the neighborhood I've lived in for 38 years, Logan Square. A July DNA Info Chicago story, "Getting An Affordable Rent Apartment Under City Program Isn't Easy," reports that developers continue to skirt Chicago's Affordable Requirements Ordinance by writing their way out of actually producing affordable housing with checks for units not in their building and most often not even in the same community.
"Two years later, the new rules have applied to 61 developments. But despite the effort, most developers are still choosing to pay millions of dollars rather than set aside units as affordable housing. Just 202 affordable units have been created under the provision so far, which means the city's on pace to create about 500 units over the course of five years, well below its goal of 1,200 units."
Developers have paid almost $39.5 million in fees since the ordinance passed, which capitalizes the Affordable Housing Opportunity Fund for affordable housing and rental assistance. While the South and West sides of Chicago can benefit from such investment, there remains a major moral dilemma being ignored—the continued economic and racial segregation of our city.
Unfortunately, this same game is being played in communities throughout our country. The pitches are being called by city halls shirking their duties to plan for the future of their citizens and children in order to chase development at any cost, but to developers' gain.
We are once again watching the "Greeding Out" of affordable housing. There will be no affirmative action on fair housing unless local action is taken project by project. Shark Week may be over but developers are still circling, and we know who's taking the bait.