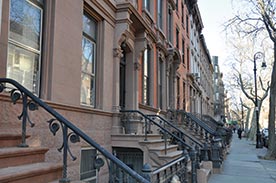 From when I was 10 to when I was 16, my mother and I lived in a diverse working-class neighborhood of single-family attached brownstone row houses in Waterbury, Connecticut (the brass capital of the world!). We came to own our home thanks in part to a first-time homeownership program, and once we moved, our world revolved around our block. It was the kind of neighborhood where kids played outside until the streetlights turned on, parents kept an eye out for each other's children, and everyone knew everyone's business. The block was so close-knit that kids thought twice about skipping school since someone on the block would surely tell your parents.
Having this sense of community not only provided for automatic friends and a built-in social network, but also created a safety net that protected us, shaped us, and stabilized us. As a child with a stable home and a protective community outlet, I was insulated from economic or housing challenges; all I had to focus on was family, school, friends, church, and our block. This supportive network allowed me to strive for my mother's one expectation: success.
As an adult, I not only continue to seek these supportive networks, I also try to create them, both with my own family and in my work with Enterprise, hoping to provide others with the same tools and opportunities that I was fortunate to have. My husband and I spend the majority of our free time with our sons in our front and back yards, Marcus Garvey Park, and Central Park in New York City, where we can gather with old friends or perhaps make some new ones. My family is often found riding bikes, playing in the playground, taking swimming lessons in the pool, and watching performances in the amphitheater.
With Enterprise, I am lucky enough to travel across the city to neighborhoods like the South Bronx and East New York. These neighborhoods, like Waterbury, are full of vibrant stories of residents with the spirit and will to thrive. These residents inspire me to go to work each day and create homes and community spaces to support healthy communities and to help protect our future.