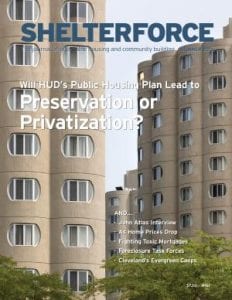 I'm on the road this week, with stops in Chicago, Kalamazoo, and San Antonio. I left Chicago this afternoon by train, getting a great view of the skyline as we headed around the shore of Lake Michigan.
Chicago is the birthplace of the skyscraper, and its celebration of the vertical hit me somehow as more dramatic than even in Manhattan. In Manhattan it feels like the buildings are tall so they fit on a crowded island. In Chicago it feels like they like it that way.
Amongst the various towers, I recognized the Hilliard Homes, which graced the cover of our Summer 2010 issue focused on a particular proposal for public housing reform. Thinking about public housing amid this wonderland of high rises, many of which are luxury residential, reminded me that the idea that the problem with "failed housing projects" is that they were high rise is still an idea that gets repeated over and over around the country.
I think we need to do a more consistently better job of describing what makes a public housing project fail. It's not the shape of the building. It's poor location, poor construction, poor maintenance, isolation from opportunity, differential access to public services, stigma. As downtowns become the place to be again, and the demographics are showing a dramatic trend toward preference for dense living in transit-rich areas, I worry that this demonizing of the high rise might cloud the redevelopment decision-making process.
I was also fortunate enough to be in town during Open House Chicago, a weekend of free behind-the-scenes peeks at some of the city's landmarks and remarkable but usually private buildings. On a tour of City Hall, I learned that the four sculptures surrounding the door of the 1912 building were supposed to represent the four primary concerns of city government—playgrounds, schools, protecting the water supply, and parks. A fascinating list I never would have generated if asked to guess. Not that those couldn't ring true as priorities these days, but it's hard to imagine some other concerns not rising to the top for just about any city government. I'm still pondering what it would mean for a city to declare those first among equals.