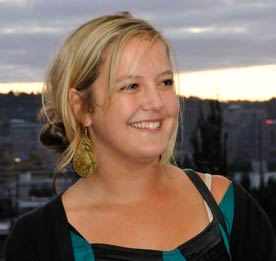 My experience in the community development field began in 2007 when I received a three-year Enterprise Rose Fellowship position with the Farmworker Housing Development Corporation. With a background in architecture and sustainable design, I took a critical view of building practices in the affordable housing arena, and had much to learn about the financing and implementation of these projects.
I landed in the field during the end of a robust tax credit investment market, with looser restrictions and more money going into projects.
It didn't take long for me to see a collapsing financial industry and a much more competitive tax credit market with projects seeing stiffer competition, limited budgets, and tighter partnership restrictions.
Due to the changes in the financing and economic spheres, as well as shifting attitudes and increasing knowledge related to building science, I saw a large swing toward rehabs and housing preservation rather than new construction. This was a top-down approach — the state housing finance agency set new priorities for preservation. But it was also a bottom-up approach — owners saw major physical issues in their portfolios and could not delay rehabs.
In the Pacific Northwest, the affordable housing industry is just beginning to understand the unsustainable building practices that were common in the 1990s and early 2000s, before building science regarding ventilation, envelope detailing, and water drainage was common knowledge. There is a huge portfolio of under-performing affordable housing projects that are suffering from higher than expected operating expenses and that need significant rehabilitation in order to be considered sustainable for future use. We typically fund affordable housing projects to be "affordable" for 30, 40, 50, and now 60 years, but our building practices have not to this point reflected the same longevity goals.
To me, this begs a question about the long-term costs of building cheaply, and the implications of using affordable housing as a test case for new building products and strategies. Granted, the issue in the Pacific Northwest was not just one affecting affordable housing — many market-rate and private, higher-end housing projects see these issues as well — but without the HOA fees and owner-income that you have in these other sectors, it is more difficult to finance.
I think that all of these factors combined point us in a new direction, toward long-term sustainability for our buildings and for our budgets. The term "sustainable" here does not refer to low-VOC paints and compact fluorescents. Instead we need to think of building for the future, with our particular climates and use patterns in mind. For new construction, this will necessarily be more expensive, as we prioritize better quality building products and practices, and could potentially slow down the industry. So what are other strategies for development? The concept of prioritizing existing projects over new construction could be a potential incentive to think outside the box regarding how we build and finance, and I look forward to exploring new ideas for adaptive reuse and rehab financing as we progress into the next decade.