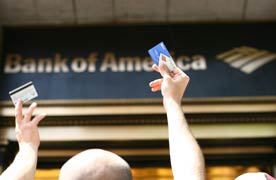 In November, Illinois People's Action, Iowa Citizens for Community Improvement, and 15 other community organizations from across the country filed an official protest against the Treasury Department's top CRA assessment of Bank of America and Wells Fargo. "These outstanding ratings are a reward for their fraudulent behavior," said Don Carlson, executive director of Illinois People's Action, saying that the two banks were leaders in generating the unsafe subprime and predatory lending that toppled the housing market and the economy. "Clearly, such practices should result in failing community service ratings," said IPA's Jack Porter.
Also, say critics, these banks are now dragging their heels on offering permanent loan modifications, while plowing ahead with foreclosures despite evidence of fraudulent processing. Of the roughly 76,000 borrowers who have been waiting more than six months in trial loan modification limbo (banks are supposed to determine permanent modification eligibility within three months), half are Bank of America borrowers. In response, the city of San Jose, Calif., has diverted nearly $1 million in city deposits away from Bank of America. Making the connection more explicit, the city council voted to make banks' loan modification performance a factor in determining where municipal monies are invested, following a campaign led by the PICO affiliate PACT.
Will banks get the message? That's yet to be determined, but if more towns follow suit and put their money where their mouths are, it seems likely they'll at least be paying attention.