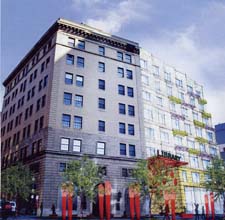 Every summer, Boston's Asian Community Development Corporation has been hosting an informal grassroots Asian film festival in a vacant lot near the city's Chinatown Gate. The final night this year was held in the nearby Chinatown Park. As has been the case with a lot of this organization's great projects and partnerships, someone had a good idea, ran with it, and created just a little more community than there was before in the neighborhood.
Writer Yvonne Abraham captures the spirit in the Boston Globe:
"Take a seat on the patch of asphalt on Hudson Street near the Chinatown Gate. See Jackie Chan and Jet Li cheat death. Hear the crowd laugh, the kids squeal, and the city hum all around you.
"Behold the miracle that is Films at the Gate. But what's happening here is also something bigger: An event that brings the city to life without a lifetime of planning and divine intervention; it belongs completely to the neighborhood while drawing people from all over; it converts an urban dead spot into a vital place."
The Asian CDC was formed in the late 1980s, as Asian immigrants and other low income families were facing difficulty in securing affordable homes in and around Boston's Chinatown. Working families were being forced out of the neighborhood and into the suburbs where even greater cultural and linguistic barriers limited their access to essential services and job opportunities.
Since then, the ACDC has done all sorts of great things, including a number of terrific affordable and mixed-income housing projects in the neighborhood. In addition, ACDC has worked with student teams in an area-wide conceptual design competition sponsored by a number of regional development and design interests to imagine innovative affordable housing proposals for neighborhoods in the New England region. The ACDC entries have won the competition for two years running, this spring with "Chinatown Crossing," designed by a team from MIT (see rendering). The design would convert an existing 1920s building and adjacent annex into 63 market-rate and 42 affordable apartment units, along with a ground-floor branch library, additional neighborhood open space, and a new connection to provide access to an alley lined with historic Chinatown row houses.
Other great ACDC activities include a participatory virtual planning mechanism, distribution of energy-efficient CFLs to community residents, social services for upward mobility, home ownership workshops in Cantonese and Mandarin, and more.
For more of my writing on this topic, go here.