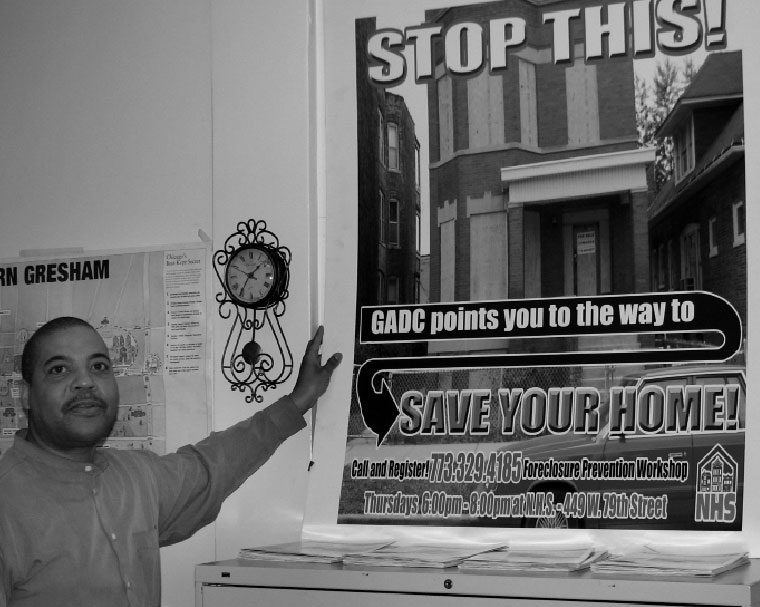 Seven immigrant families living in an apartment building in Chicago's diverse, vibrant working class Albany Park neighborhood suspected something was up when their landlord told them to start leaving rent for an acquaintance to collect. Their suspicions were confirmed when, after not seeing the landlord for several months, they started getting foreclosure notices telling them they would have to move.
This was spring 2008, and after a prolonged, as-yet-incomplete campaign, and a little help from the sheriff's department, the residents are still living in their apartments, campaigning to stay in the homes and neighborhood where most of them had lived for more than a decade and have kids in the local schools.
Their story was all over the news, but it's emblematic of a larger picture, where Chicago, the third-most populated city in the U.S., is staving off the effects of the foreclosure crisis on multiple fronts. There were about 58,000 foreclosure filings in the Chicago metro area in 2008 representing a 52 percent increase from 2007, building on a 100-percent increase between 2006 and 2007.
We're seeing similar trends in metro areas all over the country. The impact foreclosures have had on the country's rental community is severe, unresolved, and until now, almost invisible. According to the National Low Income Housing Coalition, while one in five foreclosed properties in the U.S. is a rental, that ratio is much higher in poorer neighborhoods, where many of the foreclosed properties are multi-unit. Roughly 40 percent of families who are forecasted to lose their homes in the foreclosure crisis are renters, according to NLIHC.
New safeguards are beginning to mushroom throughout the country that protect renters from being evicted from foreclosed properties. In Massachusetts, renters living in foreclosed properties are now required to get at least 30 days' written notice from the new owner asking them to vacate; and the renter is also entitled to a court hearing that can determine the length of the renter's residency. A law passed in California last summer requires 60 days notice before a renter can be evicted from a foreclosed building, and an Illinois law passed in the wake of the Albany Park residents' struggle mandates 90 days notice.
Meanwhile, New York, New Jersey, and New Hampshire, and cities like Washington, D.C., have created laws that protect tenants from eviction without proper cause. Not paying rent would be just cause, but in general, foreclosure does not count as cause for eviction.
In the case of the immigrant families in Chicago, their fight was born out of an existing community organization, the Albany Park Neighborhood Council (APNC) that works on issues of youth justice, health care, housing and immigrants' rights. One of the tenants, Esteban Cruz, had previously been involved with APNC, told staff there about the situation, and the group snapped into action with their usual strategy of coaching and supporting people — in this case the seven Mexican families — to lead their own struggle.
And so they did; unweaving the tangled legal mess their unscrupulous landlord had left them in. It turned out he had illegally converted the building into seven condos that he sold to himself, receiving loans for each one reportedly totaling more than $1 million. Then he was gone; possibly leaving the country for his native Romania. Meanwhile the condos were foreclosed upon, each owned by a separate bank.
With the help of APNC, the families brought their case to the city's housing court, where the judge ruled in their favor and appointed a nonprofit, Community Investment Coalition, to make needed repairs and to manage the property.
Nevertheless, sheriff's deputies arrived with an eviction order naming the landlord and told the families they had to leave. They were treated roughly and intimidated, the families say, and the children were terrified and confused. Deputies were also confused about the situation and left without evicting anyone. Soon, the APNC organized a protest outside the sheriff's office calling for an end to evictions of renters in foreclosed buildings. Cook County Sheriff Tom Dart made national news for his response. In October, he called a moratorium on renters' evictions and denounced banks for putting his officers in such unenviable positions.
The Chicago Lawyers' Committee for Better Housing, a nonprofit law firm with a project focusing on renters in foreclosed buildings, is currently trying to help the families purchase the units from the various banks and to consolidate into a resident-owned cooperative. Even so, throughout the past winter they continued to get threatening letters from agents apparently representing the banks, though the banks' representatives have denied this. "It's a lot of stress, we are always having to deal with something," said Mr. Cruz, showcasing the physical manifestation of their struggle: a big plastic tub filled with these letters and other documentation. "But we have the right to stay here and we're going to fight for it."
Condo Foreclosures: Hidden Pain
While all foreclosures have risen across the country on all types of homes, there has been a notable spike in condo foreclosure in the Chicago area. Condos made up 19 percent of area foreclosures in 2008, compared to 12 percent in 2007, according to the Woodstock Institute. The Chicago neighborhoods of Rogers Park and Uptown — economically and racially diverse, relatively affordable neighborhoods on the city's north side — were particularly hard hit.
Brian White, executive director for Lakeside Community Development Corporation, which is active in those neighborhoods, noted that condo foreclosures often fall under the radar, since they don't result in the boarded up windows, weedy yards, and overflowing mailboxes like single family home foreclosures.
Woodstock Institute vice president Geoff Smith said that many of the condo foreclosures were likely "mom and pop" owner conversions, wherein the owners of a three- or six-flat unit converted it to condos but then were unable to rent them due to the housing slump or found the process more costly and complicated than they had expected. Some of the condo foreclosures were likely on units that were not occupied; others resulted in evictions. In a multi-unit condo building, the foreclosure of several units puts an added burden on remaining residents since their assessment fees (to cover building maintenance and utilities) increase substantially. Fraudulent or shoddy conversion and sale of condos in a state and city with very little regulation of the condo industry has exacerbated the problem, according to White.
"People built condos any which way they wanted, with no oversight," said White, whose group has proposed a raft of state legal reforms for the condo industry. "There's a lot of buyer's remorse, people stuck with buildings with structural problems and the developer is not returning calls and is going bankrupt."
He described a 66-unit condo building where 25 units foreclosed, leaving the remaining owners with greatly increased utility and maintenance bills. "Either assessments are going up or utility bills won't be paid. Nobody is coming to the rescue of these first time homebuyers, so it's a downward spiral."
It's also common for condo owners in buildings with many vacant units to experience flooding from sewer problems in abandoned units, scavengers breaking into those units to steal copper, rodent infestations, and other risks.
Breaking the Law, Intentionally or Not
As was the case in Albany Park, and in several instances around Chicago, owners of condos or multi-unit buildings are now finding little interest in reworking a troubled loan or finding a way to keep the building.
With all these properties worth less than what is still owed, owners are deciding to simply walk away, according to Mark Swartz, an attorney for the Chicago Lawyers' Committee for Better Housing. Owners regularly disappear with tenants' security deposits, which can be in the tens of thousands of dollars.
Further, even when a condo goes into receivership, tenants' problems don't end, often because receivers are poorly supervised, also the case with Albany Park. Lawyers Committee executive director Kathy Clark notes many receivers bully and intimidate tenants. Worse still, there are scammers who pose as receivers to collect rent for units they have no authority over.
Banks that take possession of foreclosed buildings usually want to remove the tenants, because they don't want the responsibility and liability of being landlords: "They often reflect the attitude that an empty building is better," said Swartz. Part of the Committee's mission is to convince banks that it is in everyone's best interest to keep people in the buildings. Fannie Mae and Freddie Mac programs recently launched allow for people in foreclosed buildings owned by the two government-backed mortgage companies to remain in their homes after foreclosure, paying market rate rent. Swartz said this is a good start but the programs haven't had a noticeable impact yet. With these as with many laws and programs, getting word out to residents, lenders and others involved is a major challenge. Many people don't know when their rights are being violated or where they could seek aid; and many landlords and lenders don't know what their legal responsibilities are.
For example, the Committee is working to spread the news about an amendment to Chicago's landlord-tenant ordinance passed last fall that requires landlords to advise tenants within a week of any foreclosure filing. Similarly, many people still don't know about the Illinois state law passed in the fall mandating 90 days notice to renters like the Albany Park families facing eviction from foreclosed buildings. Swartz notes that just because tenants get notice doesn't necessarily mean their leases can be broken. Though legal precedent is murky, he said he doesn't think foreclosure is one of the reasons allowed for terminating a lease in Illinois.
Further, it is illegal to lock tenants out of their homes without notice in Chicago, and, in an effort to raise awareness on this part of the ordinance, the Lawyers' Committee arms residents with copies of the ordinance and tells them to call the police to help them break back in to their own homes.
Looking for Relief
The 2008 Housing and Economic Recovery Act created aid to both help people stay in their homes and to help municipalities deal with foreclosed buildings. It helps at-risk homeowners refinance into more favorable, government-insured mortgages, and offers government insurance for lenders who voluntarily reduce mortgages (meaning less burden on the homeowner). The law also created the $3.9 billion Neighborhood Stabilization Program funding for city governments to acquire and redevelop foreclosed property in neighborhoods particularly hard-hit by the crisis.
Foundations have also played an important role in the Chicago area. The John D. and Catherine T. MacArthur Foundation last year made a $68 million commitment in the Chicago area, considered the largest ever private foundation grant for dealing with foreclosures. The foundation aims to prevent 2,700 foreclosures by 2010 and to return 3,500 vacant properties to affordable rental or ownership, through the city government working in conjunction with the national nonprofit Mercy Housing Inc. The foundation is also funding groups including the Lawyers' Committee for Better Housing, the Legal Assistance Foundation and local housing organizations.
The Chicago Community Trust has also contributed substantial funds including a $5 million investment in ShoreBank, a community bank that helps save people from foreclosure by replacing subprime loans with 30-year fixed rate loans with lower monthly payments.
But as the Albany Park situation shows, residents and grassroots community groups may be the most responsive and, at least in the short term, the most powerful forces for protecting and expanding housing rights. In the south side neighborhood of Auburn Gresham, for example, the Greater Auburn Gresham Community Development Corporation sends people out in bright yellow shirts to walk the streets with large signs showing boarded up buildings and letting people know where they can go for help, according to Executive Director Carlos Nelson:
"There are so many people facing foreclosure who are so ashamed or afraid that they won't seek help on their own, it's up to the community groups to actively reach out to them."