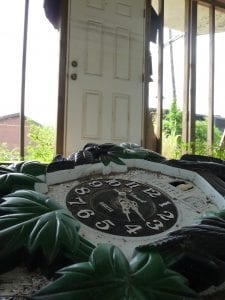 "Homeless outreach!" calls out Mike Miller as he ducks through a busted wall to climb the steps of an abandoned house in New Orleans' Mid-City neighborhood. Torn drywall hangs in scraps and old clothes, empty beer and food cans, and brown MRE bags left over from military aid during Hurricane Katrina litter the floors and counters.
This home looks in decent shape besides the trash, four feet of drywall ripped out after being soaked by floodwaters, and the door bruised and shattered from being kicked in. It was obviously newly built or rehabbed shortly before the storm, and it appears it could be made ship-shape again with moderate work.
But like 42,000 other homes in the city of about 300,000 people, it is standing officially vacant, though as food cartons, bedrolls, and rumpled clothing in many houses show, occupied often by residents displaced by Katrina, immigrant workers, chronically homeless people, or any combination of the above.
Though New Orleans' population has decreased by about a third since the hurricane, homelessness has doubled to an estimated 12,000 people.
Miller and other outreach workers with the umbrella and service organization Unity of Greater New Orleans are tasked — almost single-handedly — with reaching all these people, trying to house them and meet a vast array of seemingly endless medical, economic and psychological needs.
For months last year, hundreds of homeless New Orleans residents camped out in Duncan Plaza literally across the street from City Hall, a highly visible encampment of dome tents, furniture, and bedrolls that was cleared by city officials before the Sugar Bowl.
As soon as the homeless were kicked out of Duncan Plaza, likely because of the unsightly spectacle they would make for a national TV audience, a new encampment sprung up at Claiborne and Canal streets under the highway underpass. At its height in February and March, more than 200 homeless people camped there.
Through the tireless efforts of Miller and other Unity workers, many have been housed in emergency shelters, transient motels, or apartments, largely through disability payments. About 30 tents remain, and Unity is hoping to shrink and then close the encampment altogether.
But in a city where rents have doubled or tripled since the storm — even as so many buildings stand vacant — and social services have largely disappeared, housing the most vulnerable segment of the population is a huge challenge.
Many of the people under the bridge were homeless or at risk of homelessness before Hurricane Katrina. But since the storm, the social services and family networks they relied on to keep their heads above water have disappeared, and many of them are — figuratively — drowning.
"These people used to be housed through informal and formal service networks and family and friends," said Miller. "When they came back they realized these people weren't here anymore. The houses where they used to couch surf are gone, the family and friends are still evacuated."
Walking among vacant homes, some in decent shape as described above, some shattered and filthy, Miller notes that people with paranoid schizophrenia, AIDS, and other desperate conditions are holed up and dying in vacant buildings, physically or mentally unable to reach for help, and likely unable to find help even if they do.
Unity is mainly able to aid people who qualify for disability assistance, which can help them pay for housing. Those physically, financially, and psychologically ravaged by Katrina or other traumas but ineligible for disability payments have few options.
Like Sherryl Sampson, who remained in her home throughout Katrina, saw a niece die, and contracted cholera. "I'll never be the same again," she said.
After living in the encampment, she is now staying at an emergency shelter. "The rents are outrageous," she said, noting she returned to New Orleans after getting medical care in Atlanta because her 82-year-old mother lives here.
The Iraq war emergency supplemental funding bill working its way through Congress includes funding for 3,000 permanent supportive-housing vouchers for Katrina victims, along with Midwestern flood assistance. Unity lobbied hard for this measure. But 3,000 isn't near enough.
A survey done by Unity to paint a "post-Mardi Gras portrait" of the homeless encampment residents in February showed people suffering from liver and kidney disease, HIV, diabetes, frostbite, and other health problems, many with two or three serious diseases. Nearly a third had ended up there since losing FEMA trailers or rental assistance.
Many had gone to Texas or other states after Katrina, but come back, drawn inexorably home, even if home ended up being a dirty bedroll under the highway underpass.
Like Kenneth Rouzan, who came back to New Orleans with his wife after spending eight months in San Antonio.
"I'm 51 years old, this is me," said Kenneth, gesturing out at the city as fire engines screamed by. "This is where I raised 11 children. This is where my mom raised me."
He grew up in the St. Bernard housing projects, which have now been closed as part of the city's plan to redevelop public housing — "I cried like a baby when they tore them down," he said. He lost his home in the Third Ward in Katrina. When asked where he landed after returning from Texas, he pointed to the homeless encampment.
"Same place as everyone else…nowhere."